We're in Europe again!
This winter, I applied for (and received) travel funding to attend a Drupal conference in Montpellier France, and since it takes so long to get to Europe, I decided to expand the trip a bit, and of course Zach wanted to come too. So, last Sunday we embarked on an 18-hour, 3-hop flight from Spokane to Barcelona (via Seattle and Amsterdam), and arrived pretty tired on Monday. My luggage did not make the connection in Amsterdam, but it was delivered that evening, so that wasn't really a problem. We checked into the apartment we'd rented through AirBnB — a funky little place near the Mercat (Market) Sant Antoni in central Barcelona, and had our first adventure that evening: the upstairs neighbor had dropped some laundry that landed in the back "garden" of our place, so he came down to retrieve it. A broom and a ladder later (the laundry had landed on top of a wall), he left with his laundry, and we finally collapsed for some much-needed sleep.
Tuesday, we awoke considerably refreshed, and went off to explore Barcelona. One of the quirky features of the city is the prevalence of modernisme architecture by Antoni Gaudí, and we saw several of his buildings on our way to visit one of his major works, the Park Güell. This park was originally meant to be a residential complex, but it never worked out, and now it is an unusual and fantastical park.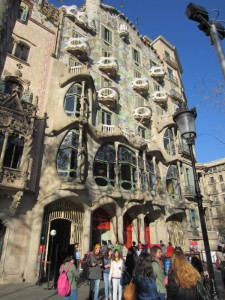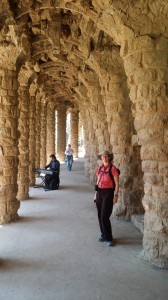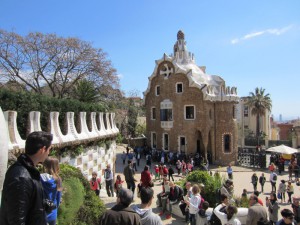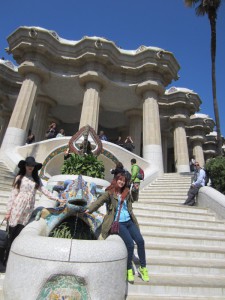 Tuesday evening, my friend Renate from Germany arrived, and we went out for tapas in the area of La Rambla.
Wednesday, we went out to explore some more, with the goal of going to see the Sagrada Família (Sacred Family cathedral), another Gaudí creation. It's one of the top tourist attractions of Barcelona, and definitely the oddest cathedral I've ever seen (or even heard of). The turrets and towers are topped with fruit and animals, and the interior has a spectacular collection of themed stained glass (there's a "water" wall in blues and greens, and a "light" wall in yellows and reds), which was really beautiful in the afternoon light. The interior is also rather organic, with columns and buttresses in the form of trees. It was definitely worth braving the reservation system and the hordes of tourists to see it! Seeing some of the towers from above was also fun, as we took an elevator/stair climb to the top of one of them.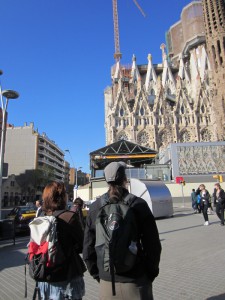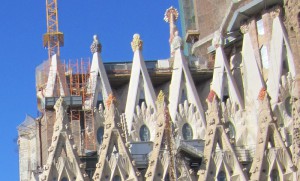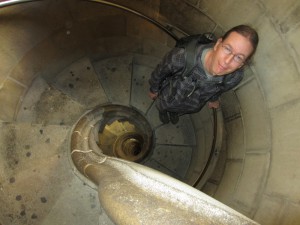 Because we wanted to visit the Sagrada in the afternoon (to see the light through the stained glass), we spent the morning by hopping on a bus and went to the Montjuïc park, Plaça d'Espanya, and a very nice museum devoted to Joan Miró.
Thursday, we took an expedition out of town to visit Montserrat, a monastery built up in the mountains, an hour and a half out of town. The trip involved a commuter train and a rack railway (with cogs used to help it climb up the mountain) to arrive at the monastery, where we took a look at the basilica before taking heading up into the hills to do some hiking. Aside from the fairly loud Belgian youth group of about 100 teens, the hike was lovely, and we even saw some mountain goats that a local said were pretty rare (he said he'd lived there all his life an never seen them before, and he called them "izards" or something like that?). Anyway, that was a treat. We climbed up to the top-most point, after taking a short ride on a funicular, and returned to Barcelona pretty tired out after a beautiful day.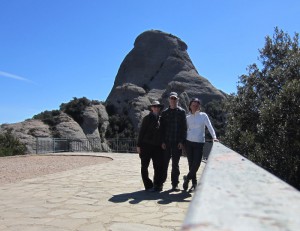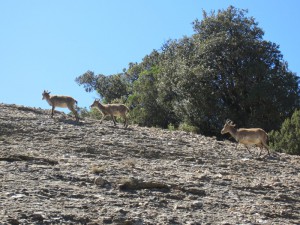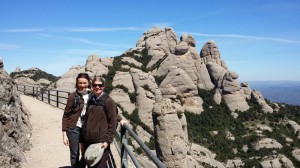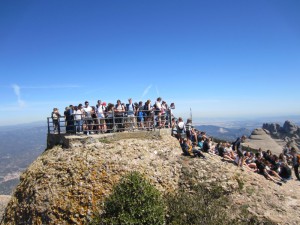 Friday was our last full day in Barcelona. We visited the main cathedral, which is much more traditional than the Sagrada Família, and much older: many of the altars were made in the 1200s. We also visited the cafe of a chocolate museum, for cups of Barcelona-style hot chocolate (which is thick like pea soup and made of excellent dark chocolate). We ended our sightseeing with a visit to the Picasso museum, whose collection includes many early works (Picasso apparently donated his collection to the museum before he died) showing the progression of his painting, as well as ceramic pieces. They also had a special exhibition about Picasso's influence on Salvador Dalí, which was quite good.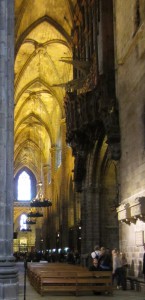 Today is Saturday (as I compose this), and we're headed to Figueres, Spain, to hopefully visit the Dalí Theater-Museum, and then on to Carcassonne, France, followed by Montpellier. More in our next installment!