On Saturday, we packed up our bags and headed north from Barcelona. The first leg took us on a high-speed (over 200 km/hr) train ride to Figueres, a small town up near the border with France. We hopped on a bus into the center of town from the train station, and visited the very interesting, and very crowded, Salvador Dalí Theater-Museum. This museum was set up by Dalí himself towards the end of his life, and it includes many of his paintings and drawings, along with jewelry he made and installations made specifically for the museum. The outside is as fantastical as his surrealist art, and the inside was different from any other art museum I've ever seen.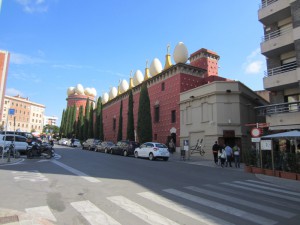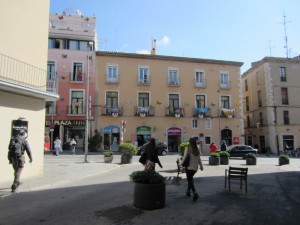 When we were done wandering around Figueres, we hopped on another high-speed train to Narbonne, France, where we changed to an only slightly slower train for Carcassonne. We "couch surfed" that evening at the apartment of a guy named Jacob, who is working on fixing up his apartment. The place was a bit of a mess, with building materials and dust all around, but we had a very comfortable night, and Jacob was a gracious host, fun to talk to, and full of local information. We also got to play a game of Carcassonne the next day before we left (how cool to play Carcassonne in Carcassonne!).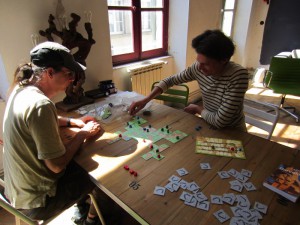 Carcassonne is known for its Cathar fortress (castle) and old town, which we wandered around on Sunday morning with Bart (Xano), a Drupalist that Jennifer knew on-line who was headed to the same conference in Montpellier. We don't have great photos of Carcassonne, because Jennifer left her camera at Jacob's while we were wandering around, by mistake, so she was just using her low-res phone, and Zach somehow smeared sunscreen on his phone's camera lens… but you'll get the idea.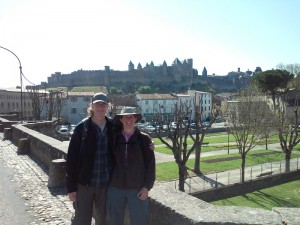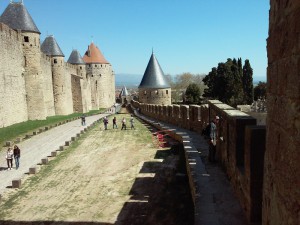 Sunday afternoon, we hitched a ride through "Bla Bla Car" (Jacob had told us about it — it's an informal car-sharing web site that is very popular in France) to Montpellier. Our driver Lucie and her friend Lucie luckily spoke Spanish in addition to French, so we had fun talking to them about French agriculture, wind and solar power, teaching pedagogy (Lucie teaches 6-year-olds), the quirks of languages, and other topics on the roughly two-hour drive. Cheaper and more fun than the train!
So… we're in Montpellier now… Jennifer is hanging out and Drupalizing, and Zach is seeing the sights and trying not to get too sick with the cold he seems to have caught. More in the next installment!