In late summer 2022, we decided that it had been too long since we had taken a bike trip, and we started discussing where to go for a fall trip. We didn't really want to fly anywhere, due to concerns about COVID-19 as well as the hassles of transporting bicycles on airplanes. We discussed going back to Minnesota and a route in Utah before settling on the idea of Vancouver Island and the Gulf Islands (in the province of British Columbia, Canada). We left home on Friday, September 23, and returned on Sunday, October 2nd (first and last days were driving, and 8 days of cycling). Here are a few highlights (and lowlights) of our trip, with of course some photos and a map of where we cycled.
We drove from home to Port Angeles, Washington, to begin our trip, and parked the car at the small Port Angeles airport while we were cycling. Zach arranged this ahead of time by calling the airport, and the price was extremely reasonable.
We took 8 ferry rides in the 9 days we were away from home, using 3 different ferry lines (Washington State Ferries, BC Ferries, and Black Ball), and visited 5 islands (Vancouver, Saturna, Mayne, Galiano, Salt Spring, and back to Vancouver Island). In September at least, the inter-island ferry schedules in the Gulf Islands are somewhat limited and complex, so it required planning our ferry rides ahead of time (at least the night before). All of the ferry boats we used were car-carrying boats that were happy to take our bicycles; BC Ferries doesn't even charge for bikes.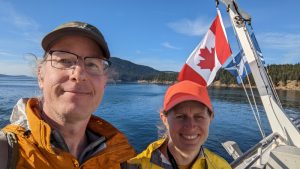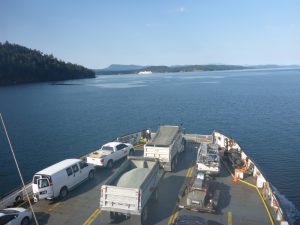 The hills in the Gulf Islands were much steeper and longer than we had realized when we planned the trip, and we could have also gotten in better shape before the trip… To compensate, we cut back on the distance we cycled per day, especially while loaded with our camping gear, and spent more time hiking, enjoying the views, and spotting wildlife. So, we covered fewer miles by bike than we have on some trips, but we really enjoyed the trip (which was the point, after all).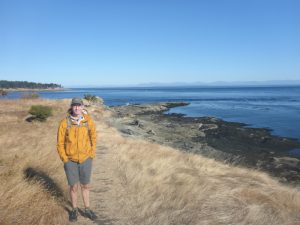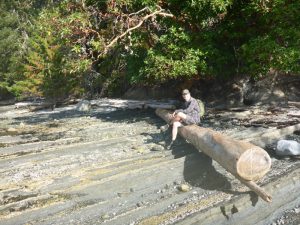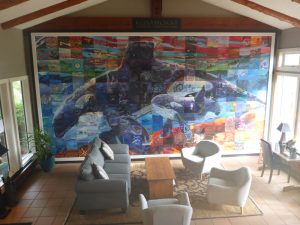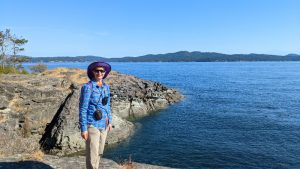 We camped in two provincial parks (Montague Harbour on Galiano Island and Ruckle on Salt Spring Island, both really nice parks with hiking trails; Montague was very quiet, but Ruckle was a bit busy the night we stayed there, as it was a Friday night and very good weather). We also stayed at three commercial campgrounds (Arbutus Point Campground on Saturna Island, right by the ferry dock with good views; Mayne Island Camping on Mayne Island, where we were nestled in the woods with views of a bay; and a tiny cabin in Mohinga Creek Campground on Salt Spring Island, which is basically a quiet, forested RV park). We also spent two nights at free rest areas in Zach's car (one in Port Angeles and one near Snoqualmie Pass on the way back home), using his nifty sleeping platform.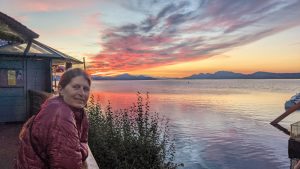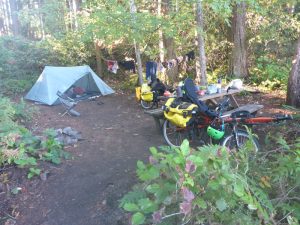 We enjoyed eating food from several bakeries and cafes (Hummingbird Pub and Oxeye Bakery on Galiano Island, Sunny Mayne Bakery on Mayne Island, and Vibrational Cafe and the General Store on Saturna Island were all excellent). We found fresh-baked cookies at several stores as well. We also found two open farm stands on Salt Spring Island on the road out to Ruckle Provincial Park, which made for a tasty birthday dinner for me including corn on the cob (which we boiled on our camp stove) and fresh tomatoes.
The Gulf Islands cycling was mostly on low-traffic roads, with the exception of Salt Spring Island, which was much busier than the other islands (the mile between the town of Ganges and the Mohinga Creek Campground was horrible, but the rest was OK). The drivers on Galiano Island seemed to be less tolerant of bicycles than on Saturna and Mayne Islands, in spite of there being very little population or traffic on any of the three. On Vancouver Island, we were able to ride the 22 miles from the Black Ball ferry terminal in Victoria to the Swartz Bay Gulf Islands ferry terminal entirely on flat bikeways and bike trails, which was very pleasant — even the few gravel portions of the Lochside Trail were fine cycling on our touring recumbent bikes.
We really enjoyed seeing wildlife on this trip! We spotted pods of porpoises several times, and saw harbor seals nearly every day. We also saw sea lions a few times, a pair of orca whales from an inter-island ferry boat, and many birds (including an oystercatcher, some surf scoter ducks, great blue herons, and a pileated woodpecker). There were also ample opportunities for boat watching, including everything from sailboats to huge ocean-going container ships; we also had fun identifying all the boats in the BC Ferries fleet that were continuously going to and fro. I was happy that I'd brought my binoculars along (good for birds, marine mammals, and boat IDs), and had recently purchased an e-book of my favorite bird guide (Peterson's), which I had downloaded to my phone.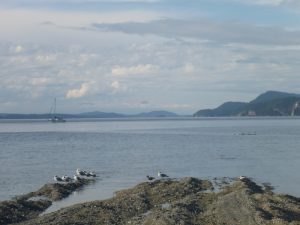 The weather was near-perfect! We only had a small bit of rain on one day, and had a beautiful rainbow in Montague Provincial Park to compensate.