It became clear to me last winter that I must get a new vehicle that is easier to drive in the snow. My Nissan pickup truck had been great in warmer climates, but here in Spokane where the snow is frequent in winter, it is not so great.
But one feature I loved about the pickup was the fact that I could sleep in the truck bed, which was covered by a canopy. Very useful on long road trips and when camping. This was a must-have feature for any new vehicle I might get.
After doing research and making measurements, I decided that I could build my own sleeping platform and install it in a Prius V. The V has a larger cargo area than a typical Prius, almost the size of a compact SUV. So I went ahead and traded in my old Nissan for a used 2012
Prius V.
The features I needed in my platform were as follows:
– Must be able to fold over so that the back seats can be used during the non-sleeping times.
– Must be long enough for me (I'm 6′ 2″).
– Must be wide enough for two people. I made sure that two RidgeRest sleeping pads can fit side by side.
I did a lot of research online, and found that there are tons and tons of designs out there. Just google 'sleeping platform' and you'll see what I mean. There are not very many examples for the Prius V however. In particular, I took inspiration from this Peugeot Partner example. I liked their simple design involving two piano hinges and 3 plywood sections, but I decided not to do the complex hanging system.
Here is what I came up with.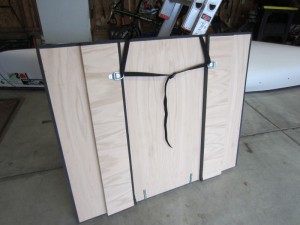 The two smaller plywood pieces you see above are attached to the main platform with small hinges, so they can drop down and support the platform in the cargo area of the car. The platform needed to be six inches above the cargo area in order to be higher than the rear seats when they are folded down. Down at the bottom you can see where I attached the ends of a handy carrying strap using wood screws. Around most of the edges of the plywood I stuck 3/4 inch foam weather stripping, to protect the car interior. The D-rings will be used to strap the platform to the cargo attachments in the car. The black strap is used to keep the whole contraption holding together when it isn't in the car. Thanks to Jennifer for sewing all the straps I needed using her antique Singer Treadle sewing machine!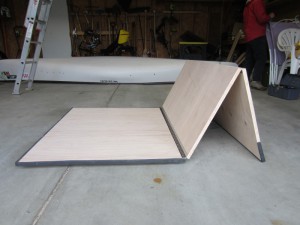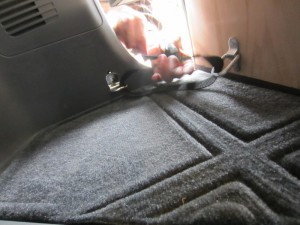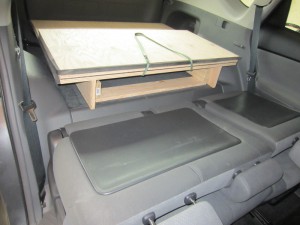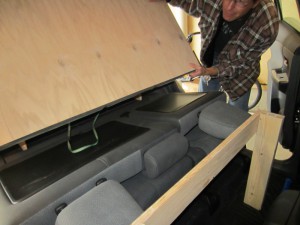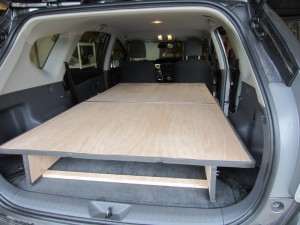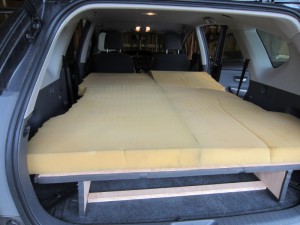 I've had a request for some dimensions, so here goes. I used one sheet of 3/4 inch 4×8 plywood from a local hardware store, which they cut enough for me to fit it into the car. When I got it home, I cut into several more sections.
Three main folds for the platform:
42 x 34 1/2
42 x 21
42 x 21
Two supports to hold it up in the cargo area:
34 1/2 x 5 7/8
34 1/2 x 5 7/8
The support to hold the platform up in the front:
2 pieces of 2×4, 21 inches high, with a cross piece at the top cut from the same plywood sheet, 30 inches wide.
Also some other materials needed:
– 2 4 foot piano hinges, cut to fit the 42 inch folding pieces.
– 4 regular hinges, to hold the cargo area supports on.
– 2 D rings, for attaching straps to car.
– A roll of 3/4 inch weather stripping to put around the edges