For the final leg of our Danube trip we rode mostly in Slovakia, but ended up spending our nights on the Hungarian side of the river. The road conditions are somewhat dicey. We encountered various grades of gravel – some mixed with grass, and mud; more about that later –, small roads of varying quality, and some busy highways. Altogether much less pleasant riding than Germany and Austria, but perhaps a bit more adventurous as well.
After leaving Györ, we had a somewhat frustra—I mean adventurous–ride. Headwinds were pushing at us all day. The map is slightly out of date, and the signs are somewhat confusing. In addition to that there are choices about what routes to take. Busy road or gravel path? In one case we tried a shortcut to split the difference between two possible routes on the map, which turned out to be a big mistake. As we rode down the gravel road, we found ourselves getting deeper and deeper into the mud and attacked by mosquitos. We eventually had to turn back and retrace the route, but not until after getting our bikes completely muddy. I had to wash mud off my chain with precious drinking water from by bottle, and had to completely remove and clean both front fenders in order to keep riding that day. We both spent significant time cleaning our bikes the next morning, and I used up all the chain lube trying to deal with the clogged up chain tubes on my trike. I learned a valuable lesson about bikes with small wheels. The chain is very low to the ground and can become completely gunked up very quickly if you ride in messy conditions. Jennifer pushed her bike through the mud rather than riding it, which turned out to greatly reduce the exposure to the mud.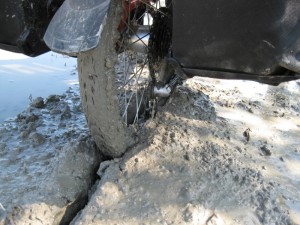 Finally we arrived in Komárom, where we conveniently stayed in a campground that was attached to the thermal baths. Not as nice as those in Györ, but very relaxing nevertheless. We also hung out for a while with a group of Germans camped right next to us, who gave us beer and some homemade German food.
The next day, after spending a good portion of the morning working on bicycle maintenance, we rode back into Slovakia and went by this place called Kelemantia, where we were able to explore the excavated ruins of an old Roman camp. There was a crew there working on excavating and reconstructing the camp in a more original form.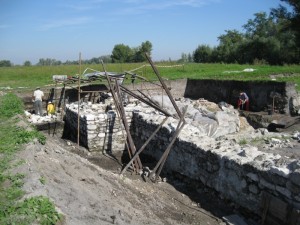 Finally, we came to the beautiful town of Esztergom. Having arrived a bit later than expected, we missed out on the local thermal baths. However, we were rewarded by our long days ride with a great view of the "bianchi green" Basilica dome as we rode into town, and I got my first taste of Hungarian goulash. I will be sampling that again for sure.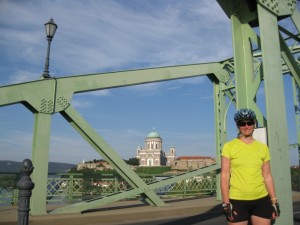 The next day we rode only about 50k, but it took a long time because we ended up crossing the river no less than four times on ferry boats. The last ferry was quite an experience, as we needed to bring our bikes up and down stairs and get them through tight doorways and passageways. We were glad to finally pull into the nice little town of Szentendre, just about 20k short of Budapest.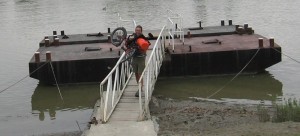 This morning we rode the final leg of the trip into Budapest through the soaking rain. Glad to be here and get another nice thermal bath.
Game notes: Budapest is in Ticket to Ride: Europe and Power Grid: Eastern Europe