On Monday morning, we set off from Vienna towards Bratislava, the capital of Slovakia. Although it's quite feasible to reach Bratislava in a single day's ride, we thought it would be more to our liking to stop in the Austrian town of Hainburg for the night instead, and ride the last 15 km into Bratislava in the morning. Besides, Hainburg has some interesting medieval fortifications to see. So, we set off from Vienna, meeing Kurt, who found us looking at our map at an unmarked turn in a trail detour (part of the regular route had apparently been flooded), and cycled along with us for an hour or so until we reached the main route again (and stopped with us to have a snack there).
A few hours later, as we pulled into Hainburg, I started feeling my trailer bouncing more than usual, and it turned out the hose that forms part of the trailer hitch was starting to tear through. So we stopped at the tourist information office in the city library, which wasn't even open, but the librarian opened it up for us, called around to find us lodging for the night, and directed us to the hardware store where I obtained a hose clamp as a temporary fix… It turned out to be very temporary, however, as the hose completely sheared through about 2/3 of the way to the guest house, and I had to walk with the bike and trailer for 10 minutes or so. A second trip to the hardware store took care of the problem, though, and it's been fine for the last few days (knock on wood). I also bought some wire just in case, and I'm pretty sure that if another part of that hose shears off again, I can rig something up to get me going.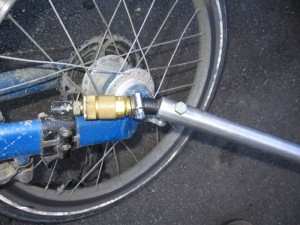 The next day was our "one day, three countries" day. We started the morning by cruising around to see the medieval gates of Hainburg, Austria. Then we rode to Bratislava, Slovakia, and spent a few hours there seeing the town and catching some free WiFi signals. Then we cycled out of town on a really pleasant cycle path, which was full of Slovakian cyclists and roller bladers, crossed into Hungary, and camped in a small town in Hungary.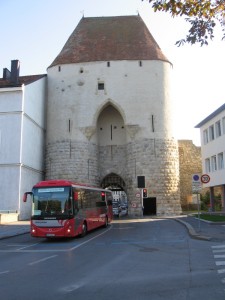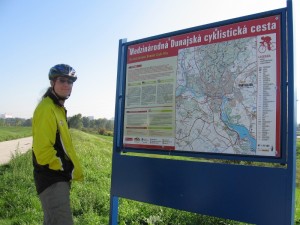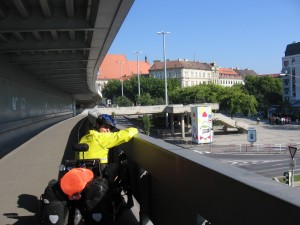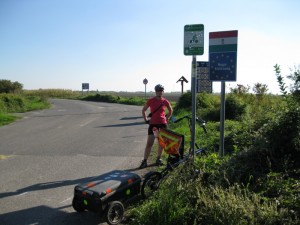 The cycling infrastructure is a bit less ideal in Hungary and Slovakia than in Switzerland, Germany, and Austria (as you might expect), at least so far. Bratislava was not particularly cycle-friendly — although the major bridges across the Danube had bicycle paths (see photo above), in the city we had a bit of trouble figuring out how to get around, and ended up backtracking and carrying our bicycles up a flight of stairs here and there. But once we got out of the city and started down the Danube again, the cycling was quite pleasant. In Hungary so far, there have been some bicycle paths and quiet roads to cycle on, much like our previous experience upstream, but with many more potholes and less frequent (though mostly adequate) signage. Also, it turns out that the map we have for this section of the trip is a bit out of date, so route finding has been a bit more interesting. Luckily, though, language hasn't been much of an issue — many people speak a little German (as do we), and there's always the point, hold up a few fingers, and smile method to get the right number of pastries at the bakeries. And ATMs are labeled "ATM", which is even easier than the "Geldautomat" (German) or "Bankautomat" (Slovakia) signs we have seen previously.
Today (Wednesday, as I compose this post — when we get some Internet access I'll actually put it up on the site) we reached Györ, Hungary, which we picked as a stopping point because it was recommended to me as a nice city to visit (it's quite pretty and pleasant), and also because it has thermal baths. Actually, the next few days should also be thermal baths stops — they seem to be quite common in this part of Hungary. They sure feel nice after a day of cycling!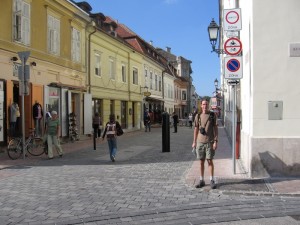 Game notes: Bratislava and Györ are in Power Grid Eastern Europe. We also found a toy store in Györ that had Hungarian editions of several games we recognized: