Vienna is the biggest city we've been in so far, so I was a bit overwhelmed by all the crowds and the transit system. Nevertheless, the first night we made it in plenty of time to figure out how to get to the opulent Musikverein concert hall for a performance by the Wiener Mozart Orchester (Vienna Mozart Orchestra). They dressed in period costumes and played mostly popular Mozart hits for us tourists, plus a couple of Viennese favorites like The Blue Danube Waltz by Johann Strauss. In spite of the "touristy" nature of the experience, the performance was top notch and professional.
Vienna has always been associated with classical music, so I was interested in further exploration of that aspect of the city. With that in mind, we visited several spots. In the Stadtpark (city park), we got pictures with a few of the greats.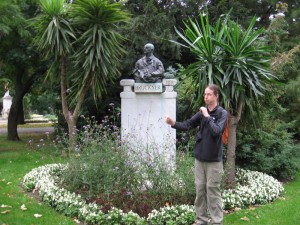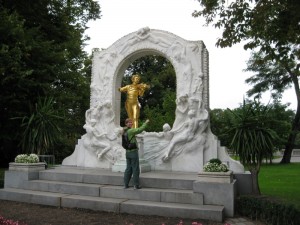 And then in the grounds around the Hofburg palace, we got up close to Mozart.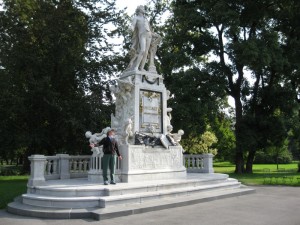 Next, acting on a tip that a local person who took interest in our bicycles the day before had given us, we went to a Sunday mass in the AugustinerKirche, a chapel that is part of the giant Hofburg complex of buildings. The service there is accompanied by a really good choir, orchestra, and choral solists, and this week they performed the Theresienmesse by Joseph Haydn. Jennifer was especially thrilled to hear this performed so beautifully, in the setting that it was intended for (i.e. as musical accompaniment for a mass and not a concert). Plus, it was free (donations accepted), and in a beautiful Baroque church with great acoustics.
Later on we visited the interesting, interactive and modern Haus der Musik, where we explored the world of sound, learned more about the many classical composers associated with Vienna, and even got to try our hand at conducting the orchestra. For those of you who are familiar with it, this is kind of like the Experience Music Project in Seattle, but with a focus on classical music.
.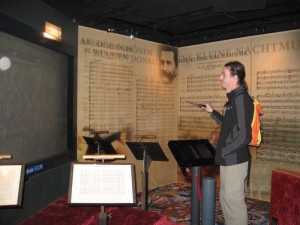 And we went back across town to visit an apartment where Beethoven had lived for many years. Nothing really worth photographing at this location, but it was interesting to see.
After roaming around Vienna all day, we were also quite excited to visit the laundry mat, the first one we had seen in the entire trip! After washing clothes in the sink for nearly 3 weeks, it sure felt good to pull on clean socks fresh out of the dryer.