The last few days, we continued riding down the Austrian Danube, again switching from one bank to the other of the river in search of the best route, the most interesting sights, etc. Unlike the previous German section of the Danube, we were almost always riding on paved surfaces, either bicycle trails or very lightly-traveled roads; like the previous section, we were generally either right on the river bank or riding through farmland, passing through occasional small towns (where we continued to stop at almost all of the bakeries). We ran into a bit of rain: a few days of rainy mornings that cleared up in the afternoon, but it wasn't too bad. And we're not hearing church bells every 15 minutes like we were in Germany — I'm not sure why? Anyway, here are a few details/highlights:
From Ottensheim (the ending point of our last post), we rode on the left bank of the Danube to the city of Linz (crossing a bridge to Linz itself at the last moment), and spent a couple of hours there seeing the sights and using the city's free WiFi to catch up on email and blogging.
We then crossed the bridge again, and continued down the left bank to Abwinden, where we crossed to the right bank on a dam, and rode a bit away from the river to the city of Enns. Enns calls itself the oldest city in Austria, and it has a very interesting basilica spanning 1700 years of Christian history starting in Roman times. It was only open at 4pm for the daily tour, so we decided to spend the night there, and found the tour quite fascinating.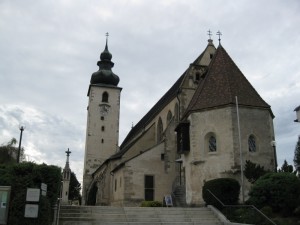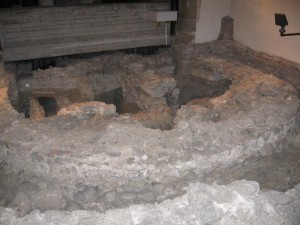 The next few days, we crossed the river a few times, mostly staying in rural settings and looking at the sights across the river. We made a few stops to see things, such as an interesting museum about the history of the bicycle in Ybbs, and a short hike up the hill in Spitz, in the Wachau wine country to see an old ruined castle. We also saw tons of day trippers in the wine country — groups of Americans on rented bikes, riding around and tasting the wine.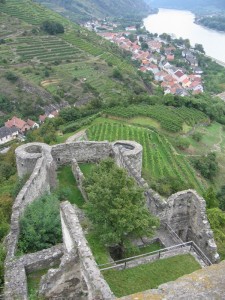 After a few days of this, we ended up in Vienna, where we took a day off (the subject of our next post). Game notes: Linz is in Thurn and Taxis and Power Grid Eastern Europe. Vienna is in Ticket to Ride Europe and Power Grid Eastern Europe. At one point, we passed by an abandoned nuclear power plant in Austria — a component of the Power Grid Eastern Europe game — Austria has apparently banned nuclear power by popular vote.
That's all for now… stay tuned!