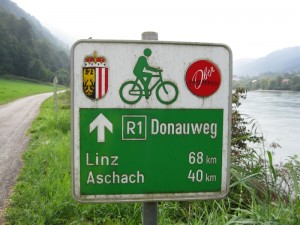 We made it into Austria this morning, and noticed several differences right away. The river valley is closed in on both sides of the river, leaving little room for roads, bike paths and towns. The railroads have disappeared, and the bike path is nice and smoothly paved, with very little car traffic. We've noticed an increase in cycle tourists, and even heard a few voices speaking English this morning as they passed by in a large group. There was a cycle-specific information booth in Aschach that was manned by a really nice and helpful lady.
Since the path is now mostly available on both sides of the river, we are constantly faced with the decision, left or right bank? Luckily there are plenty of bridges and small ferries so we can switch back and forth frequently. Today, we took two ferries, one with our British friends Martin and Gail: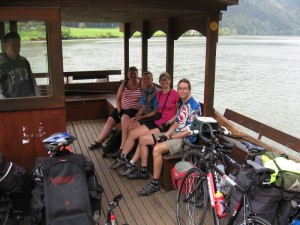 And one on a completely river-powered ferryboat. All the motion is generated by the river current pushing against the boat, which is held in place as it moves across the river by a cable and pulley system. Even the gates are powered by human strength!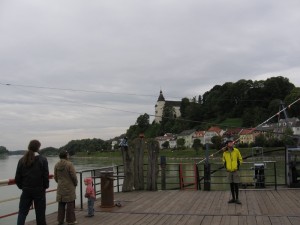 Keeping with the regular theme of electric power production along the Danube, we saw 4 separate hydroelectric power plants today, 3 of them accompanied by huge locks for ships and barges to pass through. The fourth one was powered via huge pipelines coming down from somewhere way up the side of the valley.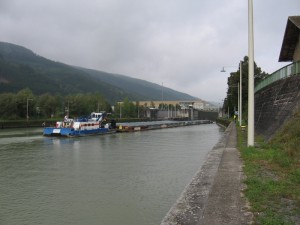 Game Notes: we passed through Passau yesterday, which is in Thurn and Taxis, and also in Power Grid: Germany.