In the last few days, we have been continuing down the German stretch of the Danube river. A few highlights and notes…
Zach's GPS is working again — apparently the problem had to do with where he had put the phone. In his pocket it works; in his bike bag, not so much. So we have a pretty accurate track of where we rode the last few days (aside from the end of today, as his battery ran out in Deggendorf).
We passed several dams, which I guess were being used to generate power, but probably not much — although the Danube here carries a lot of swiftly-moving water, the dams are only dropping a few feet. But there are a lot more of other types of power plants along the river, no doubt making use of the Danube as a water source (thermal plants, whether nuclear or coal or whatever, need a lot of water).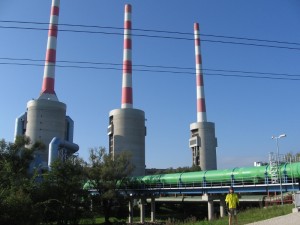 We stopped for several hours in Regensburg, where we toured the palace of the Thurn and Taxis family. Thurn and Taxis being one of our favorite board games, we could hardly pass that up!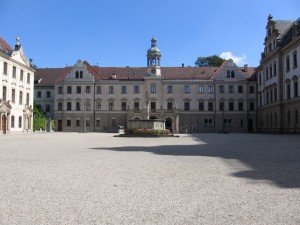 Some of the time we were cycling along the top of a dike, right along the Danube. It's often quite pretty. Other times we were relatively far away from the Danube itself, such as a short distance from a German autobahn (freeway).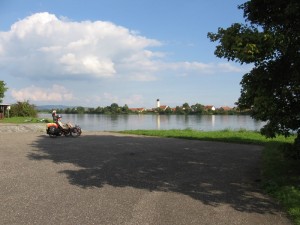 One stretch of the trip, from Weltenburg to Kelheim, we did by boat — there isn't a great bike route in this stretch, and the boat trip was 20 minutes of fine scenery.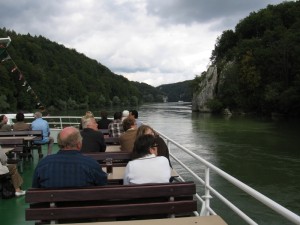 We are thinking that we like camping or staying in a pension (small family guest houses), in a small town if possible, better than staying in a more commercial gasthof (guest houses) or hotel, or in a larger city. They're quieter, more likely to have Internet, and more friendly. And cheaper!
Game notes: Regensberg is in Thurn and Taxis, as well as Power Grid's classic German board.
So… We have one more day in Germany, as we will reach Passau tomorrow (or at least, we should). That's right on the Austrian border, so our next blog post will likely be from there.