Mountain Biking on the Sat-R-Day
A fair amount of the riding we have done has been on unpaved trails, something we don't encounter much at home. Zach doesn't have much trouble with the gravel, but on my 2-wheeler that's not really made for mountain biking, if the gravel is deep it's a bit unstable. I'm getting more used to it, but we definitely don't cruise along as fast on the gravel parts of the route as when it's paved!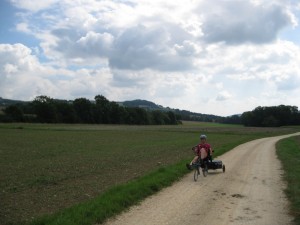 Language
We're doing OK with German — we keep getting complimented on our German, which is actually a sure sign that it's pretty bad (you know how it is, when someone tries to speak English and you want to encourage them, even though it's barely understandable?)… But we're getting our points across most of the time, in pidgin German, and understanding at least the general drift of what people are saying to us. The one thing I'd like to figure out is what people are saying when they exclaim something about our unusual rigs. I mean, Zach's on a trike with panniers, and I am on this very unusual folding recumbent towing a trailer… We definitely get stared at, and not just by the kids! The adults usually say something involving farrad (German for bicycle), but we don't know enough adjectives to figure out whether they're saying "unusual", "cool", "funky", "ugly", or what.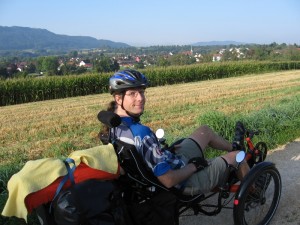 Church Bells
In almost every town we've stayed at, we've heard church bells chiming the quarter hours (one bell for 15 after the hour, 2 for 30, etc.) — something you don't hear in the US much any more. On the hour, the bells chime the number for the hour, three or four times on different pitches, I guess just to make sure you got it right? Luckily, the church bells are not on a 24-hour clock like Germany seems to be otherwise. Can you imagine at 11pm, you'd get 23 high pitch, 23 medium pitch, 23 low, and maybe another 23 very low depending on the clock… by that time it would probably be time to chime 11:15.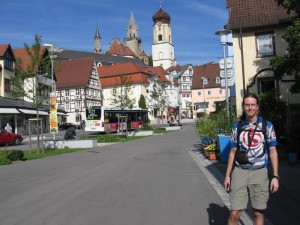 Food
We're enjoying the food, for the most part. We stop at at least one bakery every day — pretty much every small town has one, complete with fresh bread of every shape and size and variety, plus yummy pastries. I've been sampling the fruit pastries mostly, with apples, raspberries, and some really good sour plums (at least that's what I think they are).
Internet
In Seattle, we have basically free Internet access just about everywhere: public libraries, every coffee shop (and there is one per block), and even the Honda dealer's waiting room when I brought the car in for a recall notice. Every hotel and hostel I've stayed at in the last few years in the US has also had free Internet access. But so far, we haven't found that to be the case in Switzerland and Germany. We've only managed to get on every few days, and at our current hotel in Ingolstadt, we can get on but only by paying T-Mobile. I've been used to visiting Internet businesses to get access while traveling in less-modernized places (my last two big trips were to Siberia/Mongolia/China and Nicaragua), but I was surprised to find the same thing applying here.
Note/Edit: We decided to go back and tag posts with the games they're related to. Ingolstadt is in Thurn and Taxis.