We have spent the last few days exploring Budapest and Prague. My impression of Budapest: pretty and gritty. There are many pretty buildings, monuments, etc., and at the same time the city has a kind of an edgy feel to it, and many of the buildings are greyed with soot, probably from an earlier, more polluted era (we didn't notice any air pollution issues while we were there). So it has a bit of a feel of previous grandeur. Many of the buildings had beautiful tile roofs with patterns in the tile, and some have been carefully restored.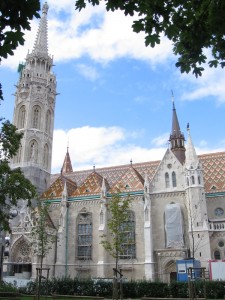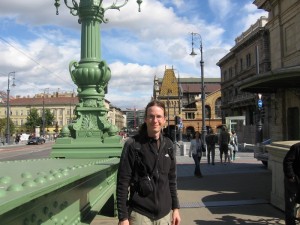 The public transport system in Budapest is good, and the metro line we were staying near had an old-fashioned look to its stations, with a distinctive chime as you came to each stop, and a different one when the doors were about to close — it reminded Zach of winning the jackpot at a casino. We had no language problems in Budapest, as everyone seemed to speak at least a little English. Bicycle infrastructure in Budapest was limited to a few bike lanes here and there, but we did OK getting to our hotel and then from there to the train station.
After spending 2 nights and most of 3 days in Budapest, we took the night train to Prague. Zach had never spent the night in a train before, so he thought that was an interesting experience (my last big trip involved the Trans-Siberian Railway, so it was not as novel an experience for me). We arrived at around 6 AM, and were immediately struck by the contrast between the rather dirty, old Budapest main train station and the clean, modern Prague station. After finding an ATM and some breakfast at the train station, we ventured out into Prague on our bikes, and noticed the first similarity to Budapest: limited bicycle infrastructure. But we managed to get to the central square in the old town, park our bikes at the only bike rack we saw in the central part of the city, and spend a few hours walking around and seeing the sights.
We also visited the Spanish Synagogue in Prague, which was quite a contrast to the Christian churches and cathedrals we had visited earlier in the trip (Moorish interior). They don't allow photos, but we did find an interesting statue of Kafka just outside the synagogue.
Musical notes: We visited the Franz (Ferenc) Liszt museum in Budapest, and a music museum in Prague. The Liszt museum in Budapest was much better than the Beethoven house we visited in Vienna, as it was his actual apartment and had many of his actual furnishings and possessions on display. The music museum in Prague was really interesting — it has a permanent collection of over 400 musical instruments, which you could look at, and many recordings of music being played on them, to add to the fascination.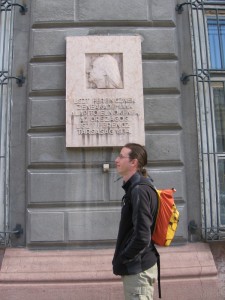 Prague was more crowded with tourists than Budapest, and we were both a bit "citied-out", so in the early afternoon we decided we'd seen enough, and got out the Elbe Bike Route map. So, we've now set off for Dresden… more in another post!
Game notes: Budapest and Prague are both in Power Grid Eastern Europe, and Budapest is in Ticket to Ride Europe. It looks like we won't be passing through any more game cities for a while, until we get back to Germany in a few days.