Today we took our third "coffeeneuring" ride (see the post on our first ride for more information).
We left after lunch. The temperature was in the low 50s, with partly cloudy skies. We got a few short sprinkles of rain, but it was quite pleasant riding. We took the long way to Liberty Lake, via Stateline (on the Idaho border), and stopped to do a couple of quick errands (visit a cash machine, drop a box off at the UPS store), on our way to try The Well Coffee House and Eatery, at 21980 E Country Vista Dr. in Liberty Lake. Like the first two coffeeneuring destinations, we had never been to this relatively new cafe.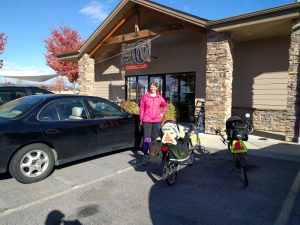 I decided to have a chai tea latte today, and Zach had a hot chocolate. One nice thing about The Well is that they have a sign up near the cash register saying they really like to wash dishes — meaning they prefer to use ceramic cups instead of paper — so that was pleasant. The tea and hot chocolate were good.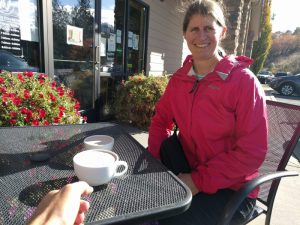 After finishing our beverages, we stopped in across the parking lot to say hello to Mara at Pawpular Companions, a pet accessories and food store — I went to high school with Mara ("some years ago"), about 80 miles south of here in Pullman, Washington, and we now, by coincidence, live about a mile apart from each other. After a few minutes of conversation with Mara and her very cute dog, we rode home. We rode a total of 12 miles today. I had to make one more small adjustment in the rear brake, and then… woohoo! No brake noise!