The last stop on our trip was Rome (Roma in Italian). We took a fast train from Venice to Rome on Saturday the 2nd of May, which arrived in the early afternoon, and our flight out was scheduled for Thursday the 7th. This gave us four and a half days to explore the city.
Saturday, after checking into our hotel, we set out for the central rail station "Termini", with plans to pick up a Roma Pass. This would have given us free admission and priority skip-the-line status at the first two Rome museums or historical sites we visited, plus 3 days of discounted admissions and public transport, which seemed like a good deal. However, when we got to the ticket and information booth, they informed us that Sunday was a free day at all the state-owned museums and sites, which made this less of a good deal. So, we decided to get a 7-day transit pass instead, and made plans to visit a couple of the lesser-visited state museums on Sunday, and the Colosseum on Monday (although free is a good price, we figured it would be totally mobbed and it wasn't worth it to us to deal with the crowds). Then we headed over to the Pantheon, which is a 2000-year-old structure with the largest free-standing un-reinforced concrete dome in existence. It's currently a Catholic church, so we ended up with bad timing, as there was a mass in progress and we could not go in. So, we wandered around the area, gawking at all the Roman ruins (in Rome? go figure!) and other buildings, and came back a bit later.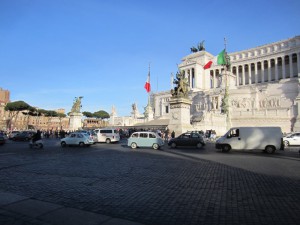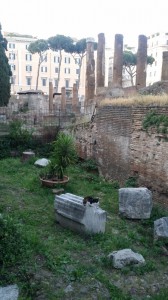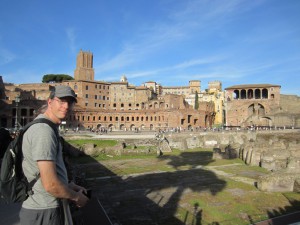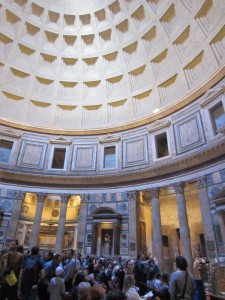 Sunday, we visited both the National Roman Museum and the National Etruscan Museum, and picked up tickets for the Coliseum for Monday. The Roman museum had an extensive collection of Roman statues and sarcophagi, and an interesting coin collection, but the part we liked best was the beautiful floor mosaics and wall frescoes, recovered from a number of nearby ruins. The Etruscan museum was a former Papal villa filled with grave goods from Etruscan burials, mostly the distinctive terracotta urns with black glazed paintings they are known for.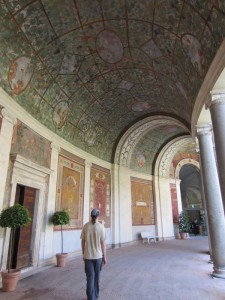 Monday we went to see the Colosseum in the morning. It's huge, but much more ruined than the Arena and Theater we saw in Arles… mostly just the brick foundations remained rather than the marble and stone coverings it had originally — like many Roman structures, it had been used as a quarry in the past, and most of the stone and marble was used to build later buildings in Rome and environs. Augustus Caesar said, "I found Rome a city of bricks, and left it a city of marble"… but apparently later people turned that back around.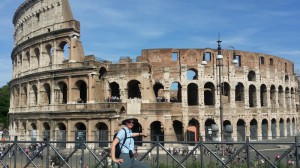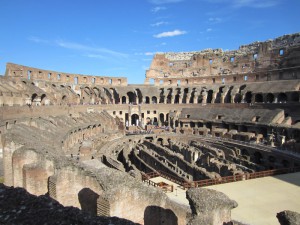 In the afternoon, we headed over to the Roman Forum and Palatine Hill, a huge section of ruins, containing temples and offices, unfortunately mostly ruined but still really interesting to look at. The Palatine hill did have a good view of the city though, and they had good signs all around explaining what things had once looked like.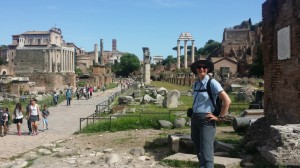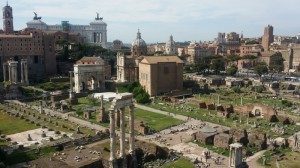 Tuesday, we went to another country: we visited the Vatican. First, we got in line to enter St. Peter's Basilica, until we realized we could not enter with our pocket knives in our packs. So, we headed over to the Vatican Museums, and checked one bag there for the day, before returning to the Basilica. I think we arrived at the time of day when the line was at its longest — it was shorter when we first got there around 8:45, and shorter again by the time we finished our lunch at around 1. But it moved pretty quickly, and the cathedral was spectacularly ornate inside.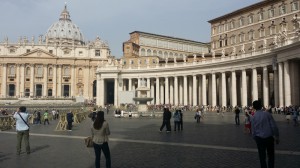 After lunch, and a visit to a board game store, we headed over to the Vatican Museums, mostly to visit the famous Sistine Chapel. Again, we'd seen really long lines there in the morning when we checked our bags, but they'd totally died down to nothing by the time we arrived around 2:15. Probably the reservations we'd made the day before were unnecessary, but then again we couldn't be sure. Anyway, we toured the museum, enjoying the good collection of (relatively) modern art more than the Roman statuary, and saw the Chapel (no photos allowed there, not that it stopped many people from taking them).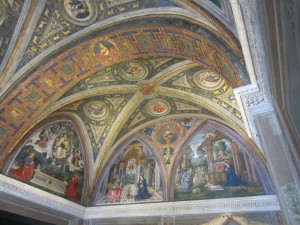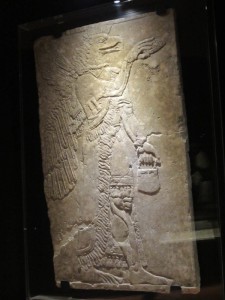 Today, Wednesday, we were kind of tired of ruins, museums, crowds, and pushy street vendors and tour promoters, so we did something a little different and went to see the Catacombs of St. Domatilla, one of the burial places used for Roman Christians around the 1st to 3rd century. It was suitably gloomy and very interesting to see, besides which, being underground, it was cool (it was pretty hot in Rome the past few days!). They didn't allow photos… but use your imagination, or visit Rome (recommended!) and see for yourself.
Now we're back at the hotel relaxing, and tomorrow we fly home… it's been a good trip!