We had a busy summer this year, but hadn't been on a bike tour in a while, so we decided to go out and ride part of the Oregon coast. We started our trip to Oregon by putting our bikes on Jennifer's car and driving to Portland the day after the Labor Day holiday, where we spent the night with Jennifer's friend E.V. Then we got up the next morning, loaded up our bikes with our camping gear, and set off towards Astoria on Highway 30 (following the Lewis and Clark Trail route). It took us 3 days to get to Fort Stevens State Park (at the northwest tip of Oregon).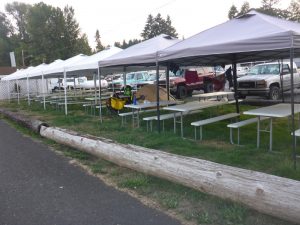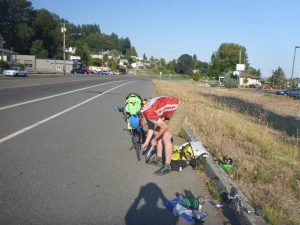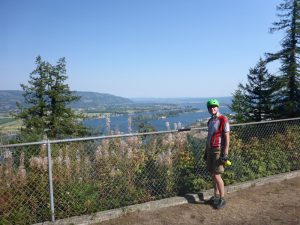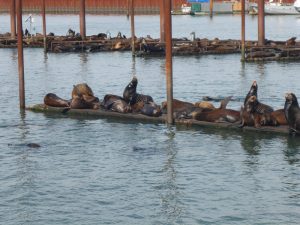 We arrived in Fort Stevens on Friday evening, which happened to be the first night of the annual Recumbent Retreat weekend: a fun gathering of about 200 recumbent bicycle riders. We enjoyed camping with them, especially the Saturday evening activities: a pot-luck supper, followed by a night-time ride through the entire campground, which was like a parade with all the bikes decorated with lights. E.V. also came out to the park on Saturday, and we enjoyed a day of beach walking and bird watching with her.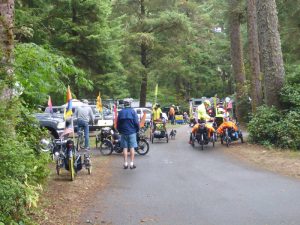 Sunday morning, we headed down the coast of Oregon, reaching Reedsport on Friday afternoon. The Oregon coast is very beautiful and very hilly, and we had a mix of weather, ranging from sun to fog to rain. We stayed in hotels two nights (in Lincoln City to dry out and do laundry, and in Reedsport because there were not any camping options available), and camped the rest of the time. Aside from one very wet morning with torrential rain, we mostly avoided getting rained on while riding, so we enjoyed the views, and geared down to go very slowly up the hills (getting an excellent view of each fern and tree we passed). We were mostly on Highway 101, which is busy, but usually has a wide shoulder for riding on; there were a few excursions onto other roads, which provided some welcome peace and quiet too. We met lots of interesting people camping in the Oregon state parks, some of whom we camped with multiple times as we rode down the coast. One couple we met (Chris and Sophie) were cycling all the way from Alaska to Argentina. Zach found Chris and Sophie's trip blog afterwards. Also, we spotted whales (and of course many birds) along the way!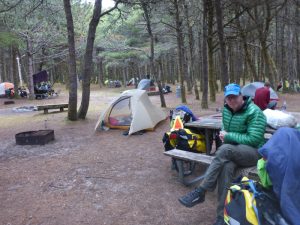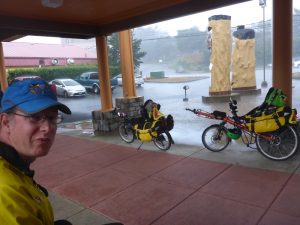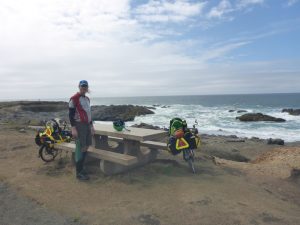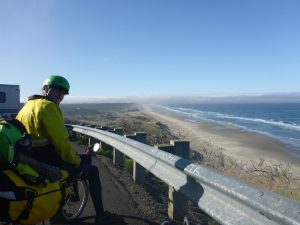 From Reedsport, on Saturday we turned inland on the Smith River Road, and spent three days getting over the Coast Range to Eugene, Oregon. This was a very quiet road on the weekend; on Monday, we saw a number of logging trucks, but they passed us with plenty of space. We camped Saturday night at a BLM campground at Smith River Falls, and Sunday night at a pull-out near the Suislaw River. There were a lot of egrets, a few deer, and at Sunday's campground, many snails (one of which hitchhiked in Jennifer's pannier all the way home!).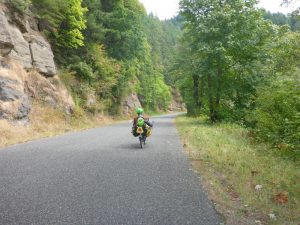 In Eugene, we got to the train station on Monday afternoon, just as a northbound train was pulling out, but we found out that Amtrak would not accept our recumbent bikes on board anyway without boxing them up. However, there was a bus leaving shortly afterwards, and they took both of our bikes with no problem. So, we loaded them up and arrived in Portland that afternoon, spent another night with E.V., and drove home Tuesday.
It was a great trip! We have plans for a trip in November/December, so… stay tuned for the next adventure!