After our Natchez Trace bicycling adventure, I decided I wanted to get a different bicycle. I've really enjoyed riding my bike (a Volae Century recumbent bike) for the past 5 years or so — it's comfortable and rides well with or without a load on it. But it was difficult (to say the least!) to get it packed into a box to take on the airplane on our last trip. Also, when I looked up regulations for taking bicycles on other airlines, they all had limitations on the maximum size of box they would accept, and I wasn't sure if (even with some disassembly) I could even get my bike into a box that they would accept. So I decided it was time to get a bike that would pack better, hopefully without compromising on the quality of the ride.
I did some research and test riding, and (to make a long story short) decided that the best bike model to get would be an HP Velotechnik Grasshopper FX. It has two 20-inch wheels (my Volae has a 26-inch rear and 20-inch front), and it folds in the middle, so it can pack down to a fairly small size. But at the same time, it has full suspension (nice for bumpy roads), and I found it to be very comfortable to ride, especially with the under-seat steering option. However, they run about $4000, once you get all the racks, fenders, and other accessories you need to support your bicycle touring habit… So, instead of buying a brand new bike, I opted to purchase a used one that I found on Bent Rider Online (BROL).
Celine, the owner of the bike I decided to buy, lives up in Calgary, so in early December, Zach and I took a 3-day trip up there to watch some curling in person, do some cross-country skiing in Banff National Park (near Lake Louise), and pick up the bike. Here's the picture Celine posted on BROL of the bike: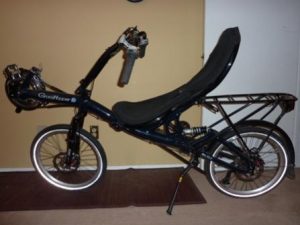 Now, this bike wasn't exactly configured the way I wanted it… I made sure to get a bike with front and rear derailleurs (no internal hub gears) and disk brakes, but since it was a used bike, it had been configured to someone else's specs. So my project of the past six weeks or so has been to make a few modifications:
The big one: Converted it from above-seat steering to under-seat steering (i.e., the steering wheel is now under the seat, which provides a very relaxed hand position). I had to order a conversion kit from the manufacturer (in Germany), and luckily also found some videos and instructions on BROL for how to do the conversion. This went pretty well, except that they sent me one part that was the wrong size, so I had to wait a few extra weeks for the right part to come in. I posted some notes on BROL about one of the steps too.
Added a bell, rear-view mirrors, and a stable mount for the GPS unit. On my Volae, I had been using the mount the GPS came with, which attached to the bars with some O-rings — OK, but not all that stable. Zach had found one online that bolted to the bars, which works much better.
Replaced the crankset and front chainrings, to reproduce the crank arm length and gearing of my Volae. I was able to mostly use chainrings from one of my two bikes, but did have to buy one additional ring (different wheel sizes means that to get the same effective gears, you need different chainrings). And I swapped the two cranksets — put the crankset from the Grasshopper on the Volae, and vice versa.
Added some fenders.
Lubricated everything. This bicycle had mostly been sitting in a basement for the past 7 years or so, and it needed a little grease and oil here and there.
Made a seat-back bag, to hold snacks, tools, etc. I have found that having a bag attached to the back of the seat is very handy on a recumbent, but wasn't able to locate one that I liked that would fit on the Grasshopper's seat. I posted some notes about making the bag on BROL, and also wrote up a PDF document with instructions and a pattern. Here's a photo: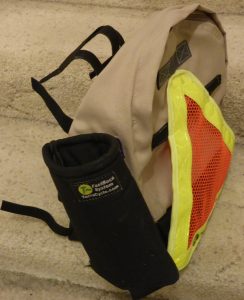 All in all, it was a fun project! I finished it up yesterday, and coincidentally, the snow finally melted off the cul-de-sac enough for me to take it on at least a round-and-round test ride… there is still a lot of snow around though, and the roads have ice, slush, and snow, so I didn't go past the cul-de-sac.