When we wrote our last post, we had reached Kosciusko, Mississippi on our 3-week Nashville to New Orleans bike trip via the Natchez Trace Parkway. So… let's see. From there, we continued riding south, and took two days to reach the area of Jackson, Mississippi. When we got to Ridgeland MS (a suburb of Jackson), on the advice of everyone we had encountered, we hopped onto the Ridgeland bike trail system to avoid a section of the Trace with heavy traffic. It was peaceful, which made up for some pretty bumpy pavement.
In the middle of Ridgeland, we stopped at the Bike Crossing (a local bike shop), and someone there told us about a mountain bike festival where we could watch some races and camp for free. This sounded way better than our planned stop for that night (an Econolodge in Clinton, another suburb of Jackson), so we headed up to the hills and had a great time hanging out with the mountain bikers for the afternoon and evening.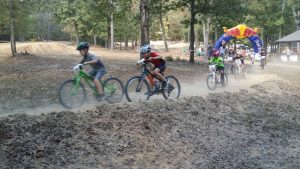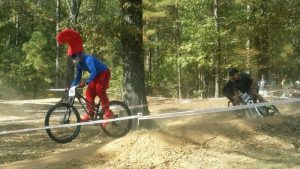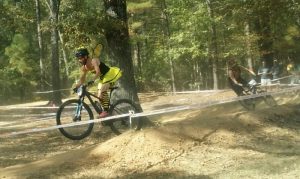 Unfortunately, Jennifer picked up a really bad case of chiggers (or some other insect bites) at the mountain bike festival, or perhaps it was at one of the campgrounds we stayed in the next two nights… By the time we arrived at the end of the Trace in Natchez, Mississippi, Jennifer's legs were completely inflamed with terrible itching. But we still enjoyed our last days of cycling on the Trace, stopping at the last few "points of interest" along the Trace, and visiting a few historical sites in Natchez. We stayed at a cheap motel in Natchez, and Jennifer picked up some calamine/antihistamine spray, which kind of helped, and the next night she got some hydrocortisone cream, which provided some real relief.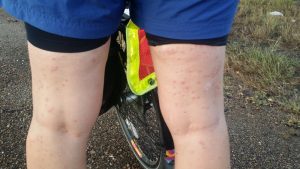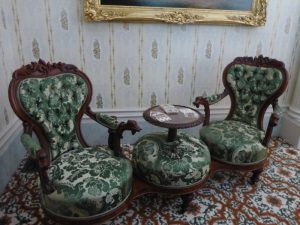 Having finished cycling the Trace, the next phase of our trip was to make our way to New Orleans (the nearest major airport). We had a few options for routes between Natchez and Baton Rouge. One option was to continue down the Adventure Cycling "Great Rivers South" route, whose map we had been finding so helpful along the Trace. However, there were not any good lodging or camping options within what we consider a day's ride from Natchez, so even though it seemed like it might be a good route, we opted to go the more direct route, down US highway 61. Out of Natchez it seemed OK for a while — it's a fairly busy 4-lane divided highway, but it had a good shoulder. Unfortunately, a few miles south of Natchez our good shoulder ran out, and we were forced out into the traffic lane, which was far from ideal. We did find a few side roads for part of the trip, but much of that day's ride to Woodville, Mississippi, wasn't very enjoyable (the one motel in Woodville, however, was perfectly fine). 7 miles south of Woodville the next morning, we crossed into Louisiana, and the shoulder went from nothing to practically a full lane's worth, so that part of the ride to Baton Rouge was much better, although still not all that pleasant, since we were on a 4-lane highway with more and more traffic as we got closer to the state capital.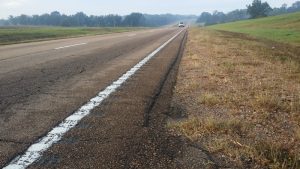 We stayed with Warm Showers host Mark in Baton Rouge, who got us set up with a good route for the two-day ride to New Orleans; we stayed with another Warm Showers host half-way there, since all the nearby campgrounds were RV-only, and other lodging was hard to find. The route went along the Mississippi, through an area filled with all kinds of chemical plants, interspersed with sugar cane plantations and the occasional small town. The riding was on a combination of pretty calm back roads, busy roads with good shoulders, and the Mississippi River levee trail, so aside from the occasional terrible smells from the plants, it went fine.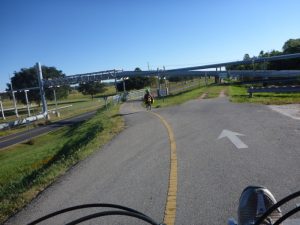 We had allowed 3 weeks for our trip, which turned out to be about 735 miles all together, but we went more miles the last few days than we had planned to average (due to lack of accommodation options at shorter distances), and we didn't take any days off from cycling (there was one short day when we got to Natchez), so we got to New Orleans on Saturday the 22nd, several days before our flight out (which is Wednesday the 26th). The first night, we again enjoyed the hospitality of a Warm Showers host, and went with them to see a very fun Halloween parade.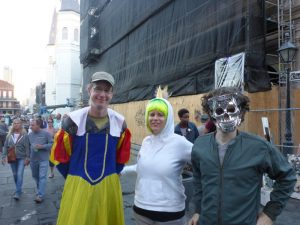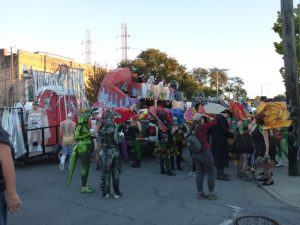 Sunday's adventure consisted of getting our bikes packed up and shipped out for home via Amtrak. This turned out to be pretty easy, once Jennifer had located a bike shop to remove her right crank so that her very long bike would fit into the Amtrak box (on a recumbent, the crank sticks out in front, so that seemed like the easiest way to remove 2 inches from the length of the bike). Amtrak Express shipping also turned out to be less expensive and MUCH less worrisome than trying to get Southwest Airlines to take them as luggage (see our Part 1 post about that!).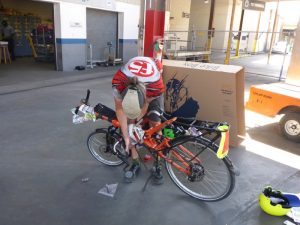 After getting our bikes sent off, we booked an AirBnB room for the next 3 nights (not wanting to abuse the wonderful generosity of Warm Showers people too much). Sunday night, we went to a board game meetup near the place we were staying, which was fun. Monday we relaxed for part of the day, and then borrowed a canoe from our AirBnB hosts and went a ways up the nearby Bayou St. John, to visit the New Orleans Museum of Art's sculpture garden. Tuesday we went to see one of New Orleans' historic cemeteries, visited a historical museum with an exhibit about the history of commerce in New Orleans, and relaxed some more. We've also been enjoying a variety of excellent food, of course!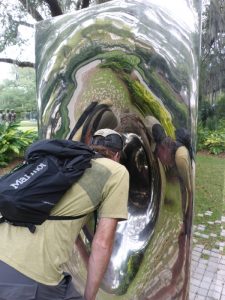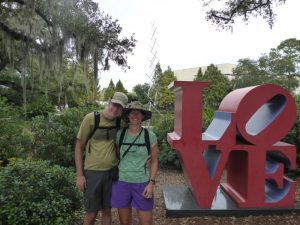 Wednesday (tomorrow) morning we will head to the airport, which should be fairly straightforward without the bicycles to deal with. It's been a good trip!