For a few years, Zach and I have been talking about remodeling the kitchen. Our kitchen, living room, and dining area, when we bought the house, had a semi-open floor plan, but there was a big wall, not quite up to the ceiling, between the living room and the kitchen. This meant that when we had people over (most likely, my dad and his partner Gwen), if someone was in the kitchen, it was kind of hard to talk to the people in the living room. Plus, there wasn't much counter space. Here's what it looked like: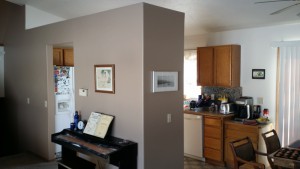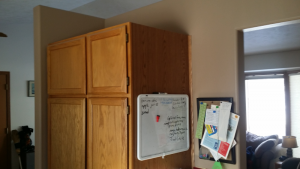 We were thinking that rather than the tall pantry cabinet that was behind that wall cutting us off, maybe we would rather have an island with a countertop. This would open up the space for sociability, and at least double our usable counter space, at the cost of a few cubic feet of cabinet space. To partially mitigate the loss of cabinets, we also thought about adding a small wall cabinet to the right of the existing cabinets (see first photo). Then we had the idea of a hanging pot rack, to provide space for our pots and pans. Then we kept thinking. And thinking, for a few years.
This spring, we took a look at our budgets, and decided that we were ready to do the job! Zach and I are both somewhat handy at some things around the house…. But we know our limitations, and we wanted to make sure that the cabinets were installed properly (level, etc.) — and this was beyond what we were comfortable doing, so we needed to hire a contractor to do it. We had a hard time finding someone who was interested in taking on the job, until we found that a local cabinet manufacturer, Huntwood, would do it for us, as long as we did the demolition work. The job went fine… here are some photos of the process.