We didn't end up leaving on Thursday the 7th as planned… We got up in the morning and started getting ready to go to the airport, but we were interrupted by a text message telling us our flight out was cancelled. We were very happy we'd signed up for text message alerts and that we had free international texting, and we immediately called the airline and rebooked a later flight. But then Zach was checking his Italian train app, and it was saying that a bunch of the trains to the airport were also cancelled. So, with growing suspicion we did a web search and found out there had been a fire in the airport the night before, and the airport was expected to be closed until about 2pm.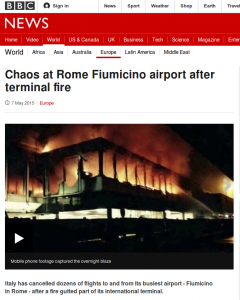 The flight we were rebooked on was scheduled around noon, which seemed very unlikely to work out well, and as it was the airline had not been able to book us all the way through to Spokane… the best course of action now seemed to be to stay on in Italy an extra day, so we called up the airline and rebooked our flight for Friday. Meanwhile, Zach found us a cheap hotel in a Rome suburb out near the airport; we had a leisurely breakfast, packed up, and headed for the commuter rail terminal.
Our first stop was Ostia Antica, an amazing set of ruins of what was once Rome's major port, at the historic mouth of the Tiber river. Apparently, it was a bustling city of up to 50,000 inhabitants, from about the 4th century BC through about the 9th century AD, after which it was abandoned. The mouth of the river has also since moved, and the area filled up with silt, preserving the ruins reasonably well until they were excavated in the 20th century. We spent several hours wandering around the ruins there, which were filled with semi-intact buildings, some with frescoes, mosaic tile or mosaic stone floors, and marble decorations. They were some of the most intact and extensive ruins we visited on the whole trip.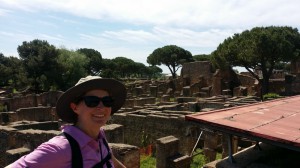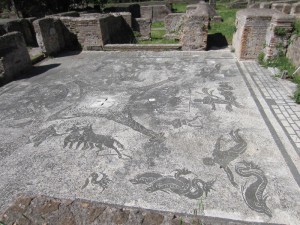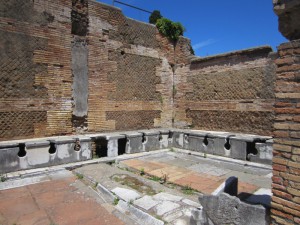 After we were done there, we went a few more stops on the commuter rail terminal to the beach-side community of Ostia Lido, checked into our hotel, and went for a nice walk on the beach. Zach went in swimming (briefly!), but I thought that just wading in the waves was sufficiently refreshing (the water was pretty cold).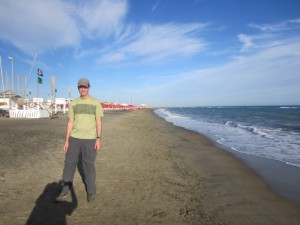 Friday we got up to a text message telling us to be at the airport at least three hours before our flight, which was feasible since we were just a 30-minute bus ride from the airport and our flight was at noon. When we got to the airport, we were faced with a chaotic scene, though probably less so than the day before. Some flights and entire airlines had to be relocated to other terminals, and the place was mobbed with stressed-out people from the previous day still trying to get away. Our bus let us off at terminal 2, and the shuttles between terminals were mobbed, so we walked between terminals. Our first stop was at terminal 3 to figure out for sure which terminal we needed to go to, and it still smelled strongly of smoke. And when we got to terminal 5, our airline had a reduced number of check-in desks (due to other airlines being relocated into our terminal) and the luggage conveyor belts were not working, so we had to wait in the line there for over an hour. But there was good camaraderie in the various lines, and we all knew the airlines were making the best they could of a difficult situation.
All told, it took us nearly 3 hours from when we got off the bus to make it to our gate, and they were boarding our flight when we got there. The flight left about 45 minutes late, which seemed pretty good in the circumstances. As I compose this, we're in the air on our way to Atlanta, and I think we will only be a few minutes late and will most likely make our connection. Several people cheered when we finally took off, and I definitely understood the sentiment. Anyway, Ostia was lovely, and we didn't really mind the extra day being tacked onto our vacation! And if all goes well, we'll be home tonight (after a very long day). [We did make it home, without further incidents, and I'm posting this from Spokane on Sunday.]
One note for anyone traveling to Rome: Contrary to what we had read on various travel sites and had learned from Google's transit navigation, there is actually an easy and cheap public transportation option to get to the main (FCO) Rome airport from Ostia Lido. It's a bus from COTRAL, which is the local bus system of Fiumicino (the town the airport is actually in), and it runs every 30-60 minutes from the Ostia Centro commuter rail station to the airport, taking 20-30 minutes depending on traffic. The COTRAL web site is only in Italian, but if you find the link for "Orario" (schedule) and type in the first few words of the two endpoints (Lida di Ostio and Aeroporto di Fiumicino), it will give you a list of the departure times ("Feriale" schedule is Monday through Saturday, and "Festivo" is Sunday and holidays — and make sure it says it is going "da" (from) the "Piazza Stazione" (plaza in front of the train station) and "per" (to) the airport terminal T1-T2). Tickets cost about 1.50 Euro.