We have just moved across the state, from the Seattle, Washington area to the Spokane, Washington area! The place we left was a pleasant 1500 square foot house built in 1960, located in a hollow in the city of Shoreline, Washington, about three blocks north of the Seattle city limits. It was in an urban residential area, quite forested with tall evergreen trees. We had done a lot of work on the house and garden, and especially enjoyed the sun room in the back of the house, where you could sit and watch the birds and squirrels frolic in the back yard.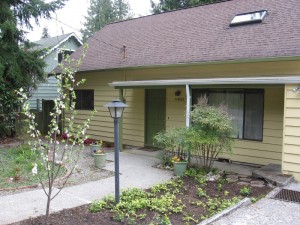 But I (Jennifer) was getting pretty tired of living in the city, dealing with the traffic, etc., and I also wanted to be able to spend more time with my dad (who lives in Pullman, Washington, on the other side of the state). Zach wanted a shorter commute and a bigger living space, without paying more for new real estate. So we decided to move to the Spokane area, which is a much smaller city with (at least for now) no traffic issues, relatively inexpensive real estate market — and the company where Zach works (F5 Networks) has an office here, I have four cousins with families in the area, there is really great cross-country skiing at Mount Spokane that we've enjoyed at Christmas time while visiting my dad, and there is also plenty of climbing, hiking, and canoeing in the area. So, we came out for a house-hunting trip in March, found a house, put in an offer, closed the deal on April 20th, and moved on April 30th, whew!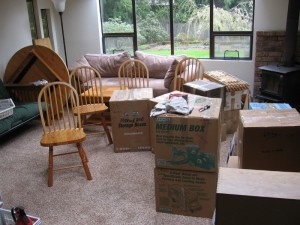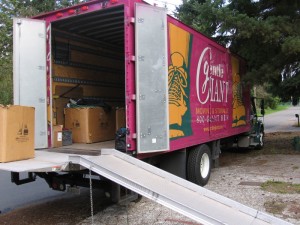 Our new place is located in the unincorporated semi-rural area of Otis Orchards, Washington, on a cul-de-sac street with 6 houses. It's a slightly bigger house than the one we left, and is a "split-level" house (lots of half-flights of stairs), built in 1995. Otis Orchards is in the Spokane River valley, which is quite flat and mostly grassland, with a few trees here and there, and hills and mountains all around. The river has a really nice walking and bicycling trail all along it, which is about 1.5 miles south of us. There are 6 medium-sized trees in our new back yard, but I am not sure what they are (the leaves are not out yet) — I suspect there is at least one oak, based on the leaves in the yard (but they could be from a neighbor's tree), and there may be an apple and a cherry tree — we'll find out soon!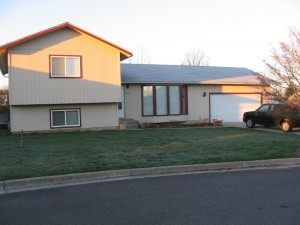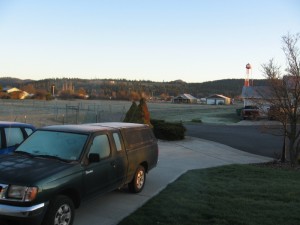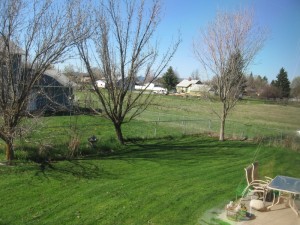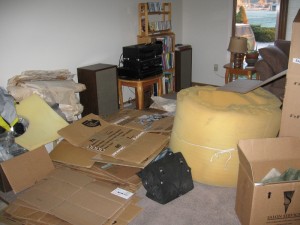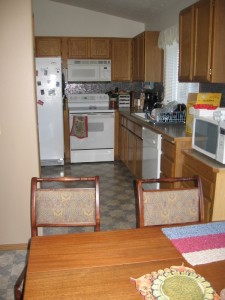 We were sad to leave a few dear friends, our Sunday board gaming group, Zach's office camaraderie, the Seattle Drupal group, and my choir behind in Seattle… But we really like the new house and surroundings, and we've located a new gaming group and a couple of possible choirs for me, so we'll adjust. And we only moved a 5-hour drive away, so I'm sure there will be visits — we'll get back to Seattle, and hopefully our friends will come to see us here!
Note: The elevation profile below seems to be in meters instead of feet… and anyway we were driving and not cycling on this trip!