The train ride to Frankfurt was relatively uneventful. We arrived just after 4AM, and after some coffee and pastries we had a smooth ride in the dark to our hotel. Luckily they let us check in very early, at about 6AM. Jennifer had her bike packed very soon, so we went out to look for a box to fit my bike. As I feared, boxes that size are hard to come by on short notice, so I made due with two rolls of tape and 20 feet for bubble wrap.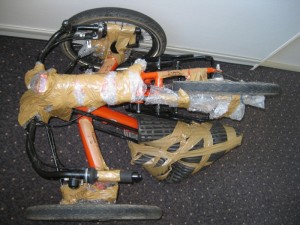 That taken care of, we went out to explore what we could of Frankfurt. It is the only city we saw in Europe that has a skyline with tall buildings in it, largely due to the banking industry. The old section of town had some neat looking buildings and a beautiful church, a nice place to spend our last evening in Europe.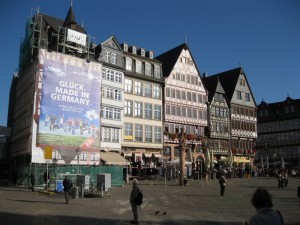 The next morning, we got to the airport and checked in very early, to allow plenty of time for issues regarding my trike. As it turned out, they allowed me to check the trike without a box, though they did say they could not be responsible for damage incurred due to its unboxed state. I think they were surprised at the unusual item of luggage, so they forgot to charge me the $100 bicycle fee. Score!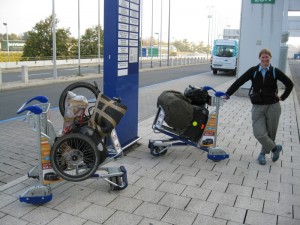 After spending a long day (9 hours extra to be exact) in airports and on planes, we finally touched down in Seattle. Jennifer's bike did not show up with us — for some unknown reason they misplaced it. We went on home, as they assured us the bike would be delivered to our house the next day, which they finally did at about 9:30 PM (it was tough fighting the jet lag waiting for the delivery).
So, we're back home and getting settled in. We'll hopefully soon get around to unpacking the bikes and inspecting for damage, but for now we are just trying to adjust to the time change, and enjoying wearing cotton clothing and unlimited laundry privileges.
Game notes: Frankfurt is in Power Grid's classic Germany board, Thurn and Taxis Power and Glory, and Ticket to Ride Europe.