After arriving in Leipzig, we counted up the number of days we had left before our flight home, the number of days it would take to bicycle to our next destination, and the couple of days we needed to get to Frankfurt, pack up our bikes, and catch the flight home. The conclusion: more long-distance cycling wasn't practical, alas! Also, I have a friend who lives in Munich, and we hadn't been able to get together earlier in the trip. She was going to be in Dresden leading a seminar on using humor in teaching and training, so… All of that considered, we decided the best thing to do was to catch a train from Leipzig to Berlin, meet my friend there for the weekend, and then take the train to Frankfurt to catch our flight home.
We arrived in Berlin mid-day on Friday, and cycled the couple of kilometers to our hotel. The route turned out to be along the former Berlin Wall, and our hotel was in the former "no man's land" maintained by the East German border guards, and right near a memorial/historical site. So after checking in, we walked over to the site to absorb some history, as my friend Renate was due to arrive in a few hours. Over the next few days, we visited many other historical markers — the Berlin Wall was obviously a large part of recent history in Berlin, and the city has put a lot of effort into preserving sections of the wall, and putting up historical markers, complete with photographs and descriptions in English and German (and in some cases French and Russian as well — the US, Britain, France, and Russia were the original occupying powers of Germany after World War II). It was a fascinating history lesson. One of the interesting sites near our hotel was where a church had once stood. It was gradually incorporated into the no-man's land area, then demolished by the East Germans to improve security. Having visited many similar, beautiful, old churches on this trip, seeing the photograph of the steeple of this one falling was quite sad.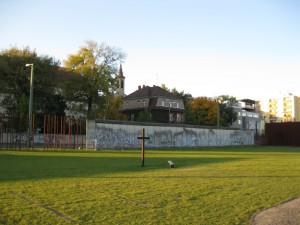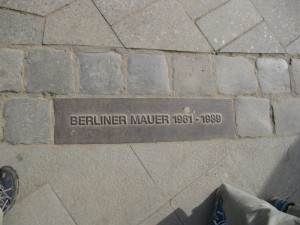 We did some other typical Berlin activities as well. Saturday we wandered around the center of Berlin, took a boat tour on the Spree River, and went shoe shopping with Renate in the trendy Hackescher Markt area. Sunday we went a little more down-scale, and along with seemingly half the residents of Berlin, visited a flea market, conveniently located in the park across the street from our hotel. We picked up a couple of German games (which we'll hopefully find the rules to in English) and a well-used duffle bag (which we needed to replace the one we'd ditched upon our arrival in Zurich airport — the trailer I've been towing with my stuff in it all trip long is a suitcase, which will have the bike inside it on the plane home, so I need something else to put the stuff in). We also visited a once-beautiful church that was badly damaged by the allied bombing in World War II, a sober reminder of the side effects of wars.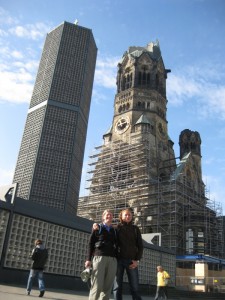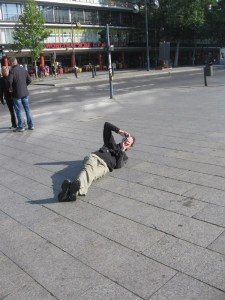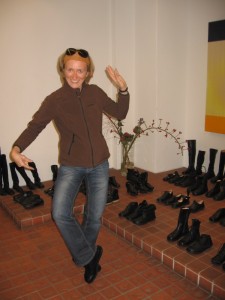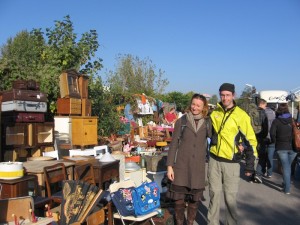 Then Renate had to go home, and Zach and I went to see some of the usual tourist sites, and then went to a performance of the complete set of Bach's 6 Brandenburg Concertos on authentic period instruments. Monday we got on the bikes and rode (minus luggage) to Potsdam, a pretty town about 35 km from where we were staying — which would have been a bit more fun to see if it hadn't been fairly cold and quite cloudy. But it was still good to be on the bikes one last time, and kind of neat to ride with the Berlin commuters in the morning on our way through the middle of town.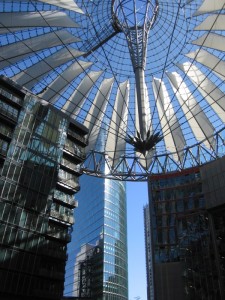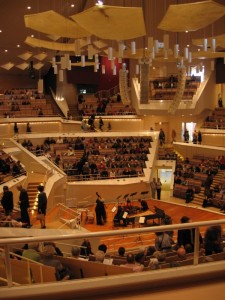 At this point, as I compose this post, we've taken the night train to Frankfurt, I've packed up my bike, and Zach is packing up his. We might have the time and energy to head into Frankfurt for some sight-seeing in the afternoon, before heading to the airport tomorrow. So there might be one more post about Frankfurt for this trip, or there might not… Thanks for reading!
Game notes: Berlin is in Power Grid's classic Germany board, Thurn and Taxis Power and Glory, and Ticket to Ride Europe (ditto for Frankfurt).