It took us two and a half days to reach Leipzig from Dresden.
The first day was spent riding down pleasant paths along the Elbe river. We stopped midday in the town of Meißen, which was dominated by a large medieval fortress called Albrechtsburg. There we were able to stock up on some important supplies, and we had a nice bratwurst. We were also still seeing some detours here and there due to the high water, but they were well marked with helpful signs. That evening we ended up in a town called Riesa.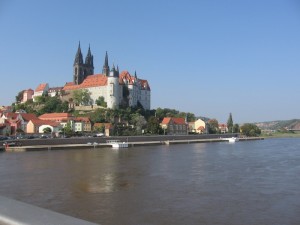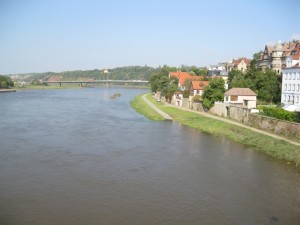 The next day we left the Elbe river and headed west. This was the first time in a long while that we were not cycling alongside a river. This meant we also had to stop using our familiar Bikeline maps, which were focused on riverside cycling. The new map we obtained had many routes and options for where we needed to go, and it took some effort to adapt ourselves to this "overland" mode of travel. The new map also had a lower level of detail; in particular, it was not very specific about the cycling conditions we would encounter. Nevertheless, we had a generally pleasant ride, mixed with a few wrong turns, some inefficient routing, tight spots, and riding surfaces in a variety of conditions, from smooth asphalt to single track. As time was running short, we decided to stop for the night in a small town called Trebsen, but that left us with only a short trip the following day to reach Leipzig.
Leipzig is one of the cities I most wanted to visit, because it is where the great baroque composer Johann Sebastian Bach spent most of his career. Soon after we arrived, we were able to visit the Thomaskirche (St. Thomas Church), where Bach was the cantor for many years. His remains are buried on the floor of the sanctuary there, and he is memorialized in a large statue outside the church.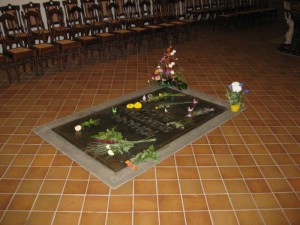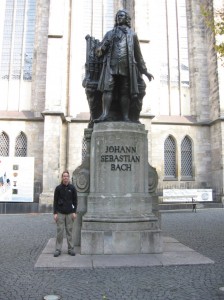 Across the street is a great museum dedicated to Bach, in the same building where many of the composer's original manuscripts are archived and studied. The meticulous process of researching and analyzing the scores was fascinating, as it involved handwriting analysis of Bach and the many scribes who assisted him, researching the paper technology of the time, and cross referencing with other documents and collections. Also, the museum gave many detailed descriptions of Bach's musical career, both in Leipzig and in other locations nearby. Altogether a very satisfying look into the composer's accomplishments.
Leipzig itself is an interesting town, set up differently from most of the other towns we have visited on this trip. Mixed in with the historic and beautiful buildings are covered passageways containing upscale shopping areas and restaurants. There are lots of local people milling around, seemingly just for the shopping, and once again we find ourselves in a town filled with cyclists. Hordes of practical and sturdy bikes are parked everywhere along the streets, many of them with baskets mounted on the front handelbars.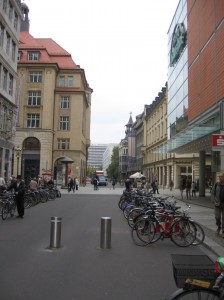 Next, we will hop on a train to Berlin. Stay tuned.
Game notes: Leipzig is in Thurn and Taxis Power and Glory, and Power Grid classic German board.