When we were planning this trip, one of the reasons I wanted to try ride the Elbe River route was because where the river crosses the Czech-German border, both countries have national parks — Bohemian Switzerland in the Czech Republic, and Saxon Switzerland in Germany. They sounded like pretty nice places (descriptions such as "the most beautiful scenery in the country", etc.). So, acting on a suggestion from our guidebook, we booked our room in Hřensko, Czech Republic, for two nights, and spent a day hiking in the Czech part of the park. It was a very pretty place: mostly forested, with spectacular sandstone cliffs; we hiked up to the largest natural stone arch in Europe, continued on to the small town of Mezni Louka, and then took the bus back down the hill.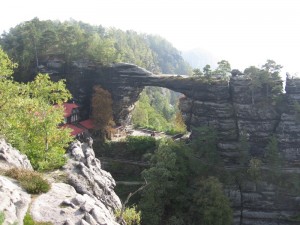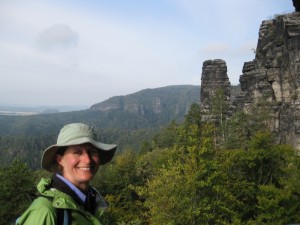 Hřensko itself wasn't too exciting — it's right by the German border, so it's an odd mix of pleasant guest houses and restaurants for people visiting the national park, and street vendors selling cheap clothes, shoes, handbags, garden statuary, etc. to German visitors. So the next day we didn't linger there long before we set off for Dresden.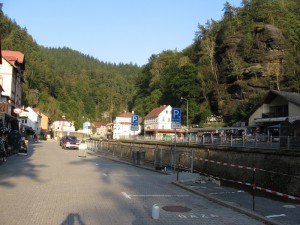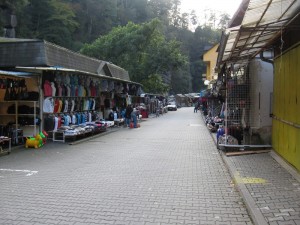 We thought we might stop and do a hike in the German side of the national park too, but it turned out to be October 3rd, the 20th anniversary of German reunification, as well as a pleasant Sunday, so all of the places we could get to easily were mobbed with Dresdeners out enjoying the day. Still, we saw some spectacular scenery as we rode down the Elbe trail to Dresden, and managed to avoid colliding with the many others out cycling or walking on the route, and to follow all the detours to avoid flood waters and landslides.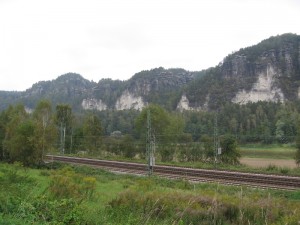 We arrived in Dresden early enough to go see the sights. One thing we noticed was that in contrast to other cities we've seen, even in the older part of town the streets were wide and there was a lot of open space between the buildings. We speculate that this is because Dresden was heavily bombed during World War II, and when they rebuilt, they didn't rebuild it quite as it was. The "old" part of town is also a mix of reconstructed older buildings and newer ones, whereas other European cities we've been to, which were not destroyed as much, had sections that were just old buildings. Still, it's a very pleasant town, and we enjoyed walking around for the afternoon, along with seemingly everyone who wasn't up in the national park.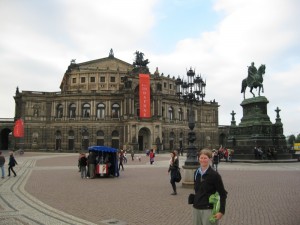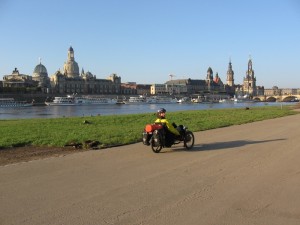 Game notes: Dresden is in Power Grid's classic German board, as well as Thurn and Taxis's Power and Glory expansion.
For the next leg of our journey, we're cycling from Dresden to Leipzig — stay tuned!