We had a rather long first day of the trip. After the 4:45 AM cab ride to SeaTac Airport, we flew to JFK airport in New York, and from there to Zurich, arriving at around 8:30 AM the next morning, which was about 11:30 PM Seattle time. Neither of us managed more than a few cat-naps on the plane, so we were pretty tired. But we and all of our luggage made it there, and we had no problems in customs beyond being questioned briefly to make sure we planned to bring our bicycles back home with us after the trip and weren't importing them to Europe.
Our next task was to put the bikes back together. We staked out a corner of the international arrival hall at the Zurich airport, and got to work. That went reasonably well, except for two mechanical issues:
I had managed to lose one of the cotter pins that holds the wheel onto my trailer. So, I kludged it together with a piece of wire twist tie that Zach had from packing his trike, and hoped it would hold until I could get something better (it did).
Zach's internal 3-speed rear hub wouldn't work, as the cable that operates it had gotten too bent. So he was stuck in the middle gear on the back (luckily we didn't have any long steep hills to go up, so he survived with only 8 middle-range gears to choose from).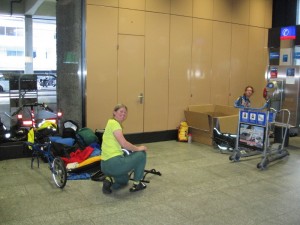 The first cycling destination of our trip was Winterthur, where Zach had previously located a bike shop "just in case": a Scorpion dealer (that's the make of his bike) en route to the B&B we had booked. I had printed out some maps and researched the route — Switzerland is criss-crossed by a number of signed bicyle routes, and Mittelands Route #5 went pretty much directly from the airport to a few blocks from the bike shop. Or at least it was supposed to, if we had managed to follow it… It turned out that the signage for this bike route was a bit spotty (it reminded us of the Lynnwood section of the Interurban Trail). But even when we weren't exactly on route #5, we were mostly on pretty nice bike trails, country lanes, or bike lanes, so we had a pleasant ride with only a few blocks here and there of backtracking. And the bike shop was great: we resolved our two mechanical issues without any trouble.
By this time we were so exhausted that every time we stopped moving, we felt like just dropping off to sleep, and it was mid-afternoon. So we headed out on one more short errand (getting a butane cannister for the camping stove), and then to our B&B for the night. After overshooting the B&B by a few kilometers, we called the owner to get directions, and he instead came and picked us up in his van (which was amazingly big enough for both of our bikes, us, and our stuff). Sweet! He then graciously welcomed us into his house, got us settled, and later even printed out a weather report for us for the next few days. So if you ever need a place to stay in the quiet countryside outside of Winterthur, Switzerland, make sure to look up Michael and Claudia Trost.
We then showered and collapsed into bed. But I'm not all that good at sleeping, and I guess my body is still very confused about what time zone we're in, so I woke up around midnight and composed this post — if it's incoherent in places, that's probably why! This usually happens to me the first night after flying to Europe, and I'll probably be back to mostly normal sleep patterns by tomorrow, so I'm not too worried. Zach seems to be sleeping pretty well…
Anyway, I'll stop here and try to get back to sleep (and give this a quick edit in the morning before I post it). Meanwhile, here are some pictures of the countryside we were cycling through: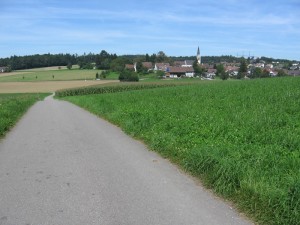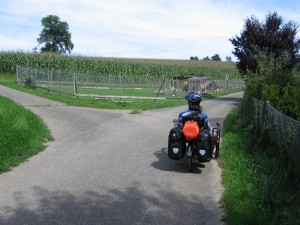 Note: Zach's phone apparently didn't record the GPS track for the ride, so I've roughed it in… very rough, but it gives some idea of the route.
Note/Edit: We decided to go back and tag posts with the games they're related to. Zurich is in Ticket to Ride Europe and Thurn and Taxis, and both Zurich and Winterthur appear in Ticket to Ride Switzerland.