After our road trip to Minneapolis (see previous post), we set off on Tuesday, September 15 on our bicycles. The Adventure Cycling route we were following started in Stillwater, Minnesota, which is about 30 miles west of Minneapolis. The map we had provided a "spur" route from the Minneapolis airport to Stillwater, but we weren't very close to the airport, so while Zach was shuttling the car to Fargo the day before, Jennifer instead used the Ride with GPS web site to plan a route, exported it to a GPS file, loaded it onto our Garmin units (see our earlier post on that). Following that route worked well — it took us out of the city on mostly cycling trails with a few interludes of quiet streets.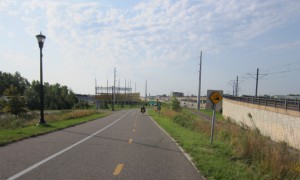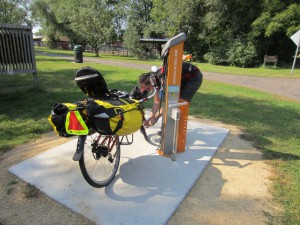 When we got to Stillwater, we had to cross a very busy bridge across the St. Croix River into Wisconsin, and then climb a very steep (but luckily fairly short) hill. The road the map's route took after that was closed for construction, and we had no idea whether the detour route made sense on a bike, so we instead rode on a fairly busy state highway that had a decent shoulder. We continued on to Somerset, Wisconsin (a bit off the route; it seems to be focused on floating on inner tubes down the Apple River), and searched around until we found the one campground in town that wasn't already closed for the season (Apple River Family Camping, which was nearly deserted and very quiet). After that, we called ahead to the campgrounds we planned to use, to make sure we had a place to stay after a long day's ride — which proved to be a good idea, as many were closed after Labor Day.
On Day 2 (the 16th), Zach rode down to a convenience store to get some coffee, and then we set off. We rejoined the main cycling route and rode mostly on quiet, paved county roads through farmland to Osceola, Wisconsin (which had a pretty waterfall), and then crossed the St. Croix River again to go back into Minnesota. We camped at Wild River State Park, which was several miles off the route and quite nice.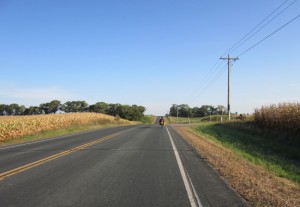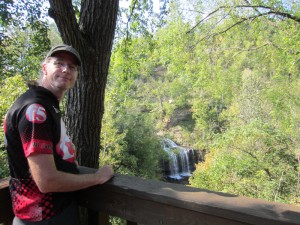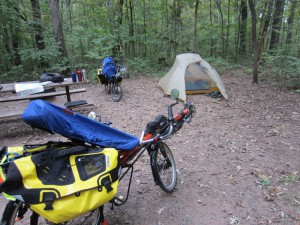 It rained quite a bit that night, but seemed to clear up around sunrise, so on Day 3 (17th) we packed everything up — unfortunately, just in time for a torrential rain storm to hit us. Since the tent was already packed, we started riding, and we had to go a couple of miles (it's a large park!) to get to the entrance building, where we waited under a roof for a while for the rain to let up. Eventually we rode off, and went about 5 miles (in which time the hard rain started up again) to a convenience store in Almalund. There we got some breakfast and had Internet access again, so we checked the weather map, which told us we should wait about an hour for yet another hard rain shower to pass.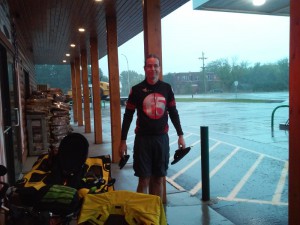 The rest of the day, the weather was quite a bit better, and we only got sprinkled on; plus, it was pretty warm, so we were fine. We spent the night at Donn's Adventure Cycling Bunkhouse near Dalbo — he and his wife have fixed up their barn as a rustic but covered place for touring cyclists to spend the night, complete with some basic food supplies (with a donation can) and a solar shower. Actually, Donn saw us about 10 miles before we got there and offered us a ride, but the rain had mostly stopped by then, so we decided to keep riding instead of taking up his very nice offer. We were rewarded by seeing a bald eagle along the way, and there was an eastbound cyclist in the bunkhouse, so we shared notes on the route.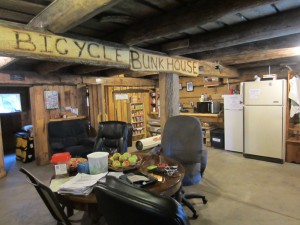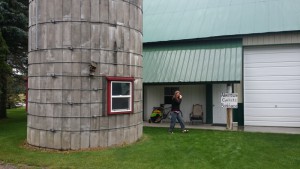 On Day 4 (the 18th), we made use of Donn's food supplies for breakfast, then continued riding on county roads through the Minnesota farmland. We saw a lot of birds that day: bald eagles, sandhill cranes, wild turkeys, and others that (not being expert birders) we couldn't identify; we also saw 3 or 4 Amish families in horse-drawn buggies (which I didn't photograph because I think maybe the Amish don't like to be photographed? Not sure). We spent the night at Alice's Attic near Little Rock, Minnesota, another barn opened up by a good-hearted person for traveling cyclists to use.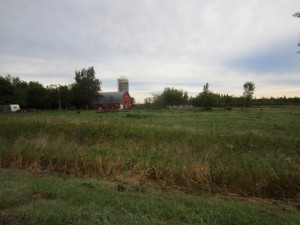 On Day 5 (Saturday the 19th), we ate outside Alice's barn, then got riding. We crossed the Mississippi River on a bridge that surprisingly didn't even have a sign — we only knew it was the Mississippi because it was big and our maps said so. After half the day on county roads, we got to Bowlus, Minnesota, where we had to decide whether to take the "main" route or the "trails alternate", and we decided on the trails route. So, we took a left onto the Soo Line Trail, and stayed the night in a hotel in Albany, getting one of their last rooms because they were having their annual "Pioneer Days" fair.
On Day 6 (Sunday the 20th), after making good use of the hotel's free breakfast, we rode out into the lake country of northern Minnesota, where small lakes pepper the farmland. We rode on the Lake Wobegon Trail and the Central Lakes Trail, and had pleasant summer-like weather. We camped at Don's Lakeview RV Park in Alexandria.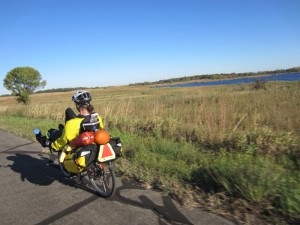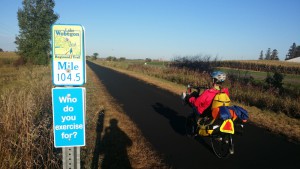 On Day 7 (21st), we ate breakfast in the Garfield convenience store, talking to some friendly local farmers, then continued through the lake country on the Central Lakes Trail, and camped at Delagoon Park, a large city park located on a lake in the town of Fergus Falls. Somehow, around 10pm when Jennifer got up briefly, a frog got into our tent — we're still not sure how that happened! We also had some noisy camp neighbors, but they quieted down after Zach went over and asked them to turn down their music around 11pm.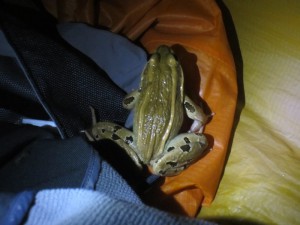 On Day 8 (22nd), we rode the last couple of miles of the Central Lakes Trail into Fergus Falls, and had a very nice breakfast at the City Bakery, where we unsuccessfully tried to convince the owner to move operations to Liberty Lake, Washington (near where we live). Supplied with sandwiches for the road, we continued on the Adventure Cycling route, back on quiet county roads through the lake country. We passed through the town of Pelican Rapids and camped near the town of Cormorant at the Pelican Hills RV Park. Suitably, we saw a flock of pelicans in the morning, and a cormorant in the afternoon, as well as some circling buzzards, no doubt waiting for us to keel over… however, they didn't know that we'd finally gotten in shape by then and were not in much danger of that!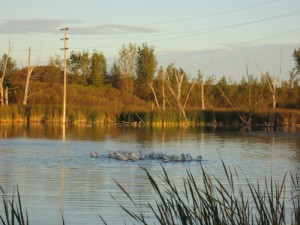 Wednesday the 23rd was our 9th and last day of cycling. We had a bit of rain overnight, but we had WiFi at the RV park, so we timed our getting up and packing between the rain squalls we could see on the weather map, and rode a few miles to a convenience store for some breakfast. There we had no Internet, but others did, so of course the ever-helpful Minnesotans showed us the weather maps and we were able to wait out a heavy downpour before we started out riding again. We got through the rest of the day without getting too wet. The ride that day was mostly through farmland, on county roads that were OK; one was very busy with gravel trucks, but it did have a very large shoulder and the trucks were quite courteous about passing us. We saw a pair of swans in one small lake, and made it to Fargo in the early afternoon. There we changed into non-cycling clothes, put our bikes on the car again… and stay tuned for the rest of our adventure in the next post!
Riding summary: We rode about 400 miles in 9 days (45 miles or so per day). The riding was fairly flat, and mostly on either quiet county roads or bike trails (all paved). The surroundings were a mix of farmland, wooded conservation areas, and lakes. The people in Minnesota were very friendly and helpful. All in all, a very pleasant bicycle trip!