The week of September 14-21, 2013, Zach, Jennifer, and Jennifer's dad Alan took a canoe trip on the Upper Missouri River in Montana, which we all really enjoyed. This section of the river is a designated national "Wild and Scenic River", and it is within the Upper Missouri River Breaks National Monument, administered by the Bureau of Land Management.
We started out on Saturday the 14th by loading two canoes and all of our gear into Alan's car — we barely fit, and had to put some of the gear on top of the car inside the canoes. We had about 7 hours of driving to do, and we stopped at the BLM visitor center in Fort Benton on the way, but didn't really get much useful information there (Alan picked up a map though).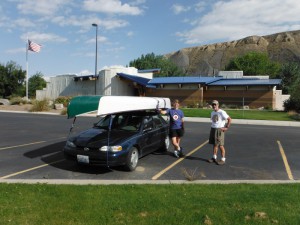 Then we continued on to the put-in at Coal Banks Landing, where we stayed overnight at the free campground. The volunteer hosts there were very helpful and nice, and we passed a night that would have been peaceful except for the over-abundance of geese honking all night, and the howls of coyotes (possibly why the geese were honking?).
Sunday morning, we filled up our water carriers to capacity, planning for the possibility of 7 days at 1 gallon per person per day (very heavy!), loaded up the canoes, left the car for the shuttle driver to pick up, and set off for the James Kipp Recreation area, about 100 river miles downstream.
We arrived there on Friday afternoon, reunited with the car, loaded up, and drove home (stopping overnight at a motel in Great Falls) — it was about 8 hours of driving to get home.
Some notes on the trip:
Maps and Books: The BLM publishes a set of 3 map booklets, which each contain an overview map and detailed river maps for a section of the Monument. They were excellent, providing historical overview as well as useful details like suggested camping and hiking spots, and definitive information about private vs. public land. We also used a book called Montana's Wild and Scenic Upper Missouri River by Glenn Monahan and Chanler Biggs, which had a great overview of the area's geology, plus very detailed information on the history of the area (Lewis and Clark, trappers, miners, homesteaders, and the steamboats and other boats that used the river for transportation).
Weather: Sunday we had a ferocious headwind, and paddling downstream was very hard work, in spite of the pretty strong current in the river. However, the rest of the days we had mostly nice weather (aside from a bit of rain and fog now and then, and one fierce thunderstorm while we were already set up in camp one night). The tailwinds we had on several of the days more than made up for the one day of headwind. The first few days the temperatures were summer-like, but during the last half our feet got cold in the mornings.

Pulled over to rest from very strong wind (whitecaps!)




Zach in the fog




Alan, fog lifting




Zach, fog lifted

Hiking: We did quite a bit of hiking along the way, mostly informal hikes on public land, not necessarily on trails.

Hiking up a side gorge




Jennifer, hiking




Hiking up a coulee with a muddy gorge




Zach on cliff




Hiking up coulee




Alan hiking, view downriver




Zach, hiking




All of us, top of last hike

Scenery: We watched the scenery change as we floated past various geological formations. Stupendous!

Famous white cliffs




Hole in the Wall




Alan and cliffs




Zach and cliffs




Alan and White cliffs




Alan, canoeing




Alan, canoeing

Camping: We camped the first few nights and our last night on the river at established campsites, all of which had privies and fences to keep the cows out, along with other facilities like tables, shelters (which we made use of during the thunderstorm), and fire rings at some of them. Two nights, we camped at undeveloped spots that were suggested on the BLM maps, where we made use of the toilet we were carrying (this river, like many others these days, requires you to carry a toilet). We used a "Restop" toilet, which uses bags to render human waste into something that you can carry out and dispose of. It worked really well, and in general, our camping experience was excellent.

Sunset from campground after thunderstorm




Camping, not in campground

Animals: We saw at least one eagle (bald or golden) each day, lots of other birds including kingfishers and great blue herons, a herd of bighorn sheep one day, several beavers, and a huge number of cows. We did not encounter many insects, which was contrary to the dire warnings we had received from our car shuttle outfitter about "Buffalo Gnats" (which we think are the same as what we normally call "Black Flies").

Big-horned sheep

People: During the first half of the trip, between Coal Banks Landing and Judith Landing, we saw several other parties on the river, and shared a campsite one night with a large university-based group (they were very courteous). During the second half, we saw very few other people. We did have one very close encounter with a power boat on the last day. The person driving the boat was either blind, clueless, or really nasty, and he came within about 3 feet of our boats at high speed, leaving us to fight some very large waves. I'm still wondering what that was about… the guy should have slowed down, and definitely should have given us more room. The few power boats we saw on other days were extra courteous though.
Mud: The banks of the river tend to be very muddy, so we had to choose our landing sites carefully. We were all glad we had at least neoprene booties to wear. Next time we try a river trip this time of year, we might try knee-high rubber boots though, as we think we might stay warmer if our feet stayed dry.

Zach steps in the mud




Zach in mud 2




Zach cleans off mud




Zach caked with mud

Overall impression: It was really a great trip, and we're already thinking about going back… although there are so many rivers, who knows?