On Thursday, March 7, 2013, Zach and I (Jennifer) left the house at about 4 AM for a short but very pleasant Mexican adventure, courtesy of Zach's employer. We flew from Spokane to Cancun via Denver, and were driven to our very posh home for the next four nights: the Grand Velas Riviera Maya, a five-star all-inclusive resort. That evening was the opening reception, which included a dinner, mariachi band, and a fire-dancing show with marimba band accompaniment.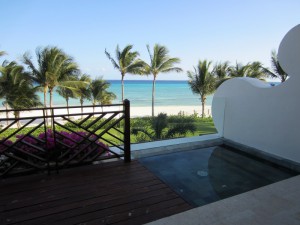 The hotel was very nice, and right on the beach, but it didn't feel very much like authentic Mexico. So, on Friday we ventured out to see the Mayan ruins of Cobá, where we borrowed bicycles to get around the fairly large grounds (trust us to turn any trip into a bike trip!). We traveled by taxi to the nearest town (Playa del Carmen), then took a two-hour bus ride to the tiny village of Cobá. After seeing the ruins, we shared a taxi back to the city of Tulúm with a Spanish couple (buses to Cobá are infrequent), caught a "collectivo" (van that acts as informal collective taxi transport between cities) back to Playa del Carmen, and another taxi back to the hotel, where we went for a swim, and had a nice dinner.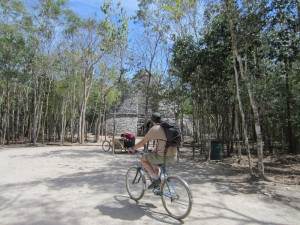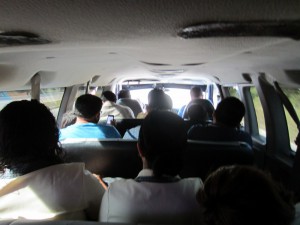 On Saturday, we had most of the day free, so we went on a snorkeling expedition. We went by taxi to Playa del Carmen again, then south to Akumal by collectivo, where we rented some gear and a locker, and snorkeled at the public beach. The big attraction of Akumal is the population of sea turtles, and we saw several of them, as well as some fish and coral. Zach used an underwater camera and I had a waterproof case for my camera, so we were able to take some underwater photos and videos, which was fun.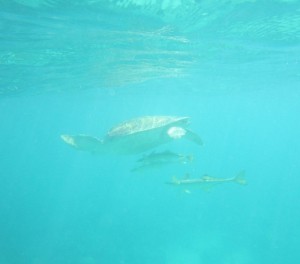 Then we caught another collectivo to the Hidden Worlds Cenote, where we unfortunately were not allowed to use cameras on our snorkeling tour of this really neat limestone cave. The Yucatan Peninsula is sprinkled liberally with cenotes, which range from simple swimming holes to huge underground cave systems. Many have been turned into theme parks; Hidden Worlds is relatively natural except for having some lights installed. We returned to Playa del Carmen on yet another collectivo, took a swim on the beach, and were treated to another dinner gathering, this one with an excellent Mexican folk dance troup followed by a really good traditional band.
On Sunday, our last full day, we ventured north (by collectivo, of course!) to the sleepy town of Puerto Morelos so that Zach could shop for something to bring back to the other members of his group at work — we settled on refrigerator magnets, and found some nice ones. That gave us the afternoon free for swimming at the hotel, followed by another nice dinner.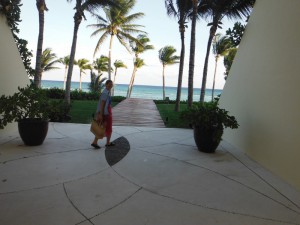 Monday we got in one last swim before heading for the airport, and arrived back home late. We had a great trip, and didn't even get very sunburned!
Game note: This trip went through the region of "Tzolk'in: The Mayan Calendar", which we've played several times recently.