After our 3-day visit to Tokyo, on the evening of November 15, Zach, his mom Virginia, and Jennifer headed to Narita Airport and flew to Bangkok. We arrived late at night, so we spent the night near the airport, and started our adventure in northern Thailand the next morning.
Trip Overview
Here's a brief overview of our Thailand trip:
Took a 4-hour, 3rd-class train to Pak Chong, where we spent 2.5 days on a tour that visited Khao Yai National Park, a cool and refreshing spring, and two bat caves. We camped one night in the national park.
Took a 3-hour, 2nd-class train to Ayutthaya, where we borrowed bicycles and spent 1.5 days cycling around town and seeing the ruins. We also took a boat ride around the canal, visiting a few more temples and ruins.
All the overnight trains were booked, so we rode 9 hours on a "VIP"-class bus to Chiang Mai, where we saw the Loi Krathong lantern festival and several temples.
Took a rickety 3-hour bus to Tha Ton, and then a 1-hour songthaew (pick-up truck transport) to Mae Salong, where we spent a few days seeing the spectacular scenery and taking in the Yunnan Chinese culture of the area, including a wedding. Virginia rode a pony named "Mi" one day, led by his owner Ah So.
Took two songthaews back to Tha Ton, where we caught a 3-hour long-tail boat down the Kok river to Chiang Rai. Spent 3 days there seeing the White Temple, Black House, Blue Temple, some hill villages, and an interesting hill tribe museum.
Took a nice (but not quite VIP) 3-hour bus back to Chiang Mai, and then the overnight train to Bangkok, where we spent the last few days of our trip seeing the sites, using many modes of transport (taxi, tuk-tuk motorized rickshaws, river and canal boats, subway trains, elevated trains, bicycles, and public bus).
Since Google Maps are no longer working on this site, I made a map of the places we visited: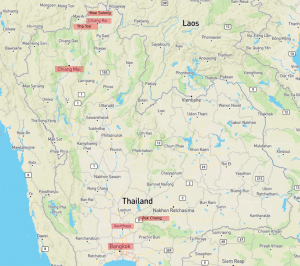 We chose to go in November because it was supposed to be the "cool, dry" season. I guess it's all relative… We didn't get more than a few drops of daytime rain the whole time we were there, so the "dry" part was accurate. And it was cool at night up in Chiang Mai, Chiang Rai, and Mae Salong, and not too hot (80 degrees F or 25 degrees C) during the day up there. On the other hand, in Bangkok it was really hot (above 90 degrees F or 30 degrees C) during the day and it hardly cooled off at night. But we were able to find hotels with air conditioning (aside from Mae Salong, where we didn't need it), so we survived. We booked hotels and tours as we went, for the most part, which mostly worked out fine.
I decided to organize the rest of this post by subject rather than chronology…
Flora and Fauna
Thailand is famous for its elephants. We were hoping to see some in Khao Yai National Park, but alas! The guide on our jungle tour there was able to track them, and we saw fresh elephant poop, as well as both huge fresh elephant tracks and smaller baby elephant tracks. We even heard and smelled the elephants, but we didn't see any wild elephants.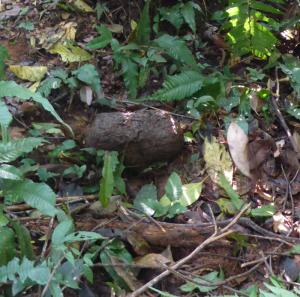 We did see quite a lot of other interesting wildlife in those three days though: bats, spectacular hornbill birds, gibbons, macaque monkeys, several species of deer (including one that sounded like a barking dog), beautiful butterflies and moths of all different sizes, many other insects, and lizards (from tiny to giant). There were also some pretty flowers, huge trees, and a lot of beautiful fungi.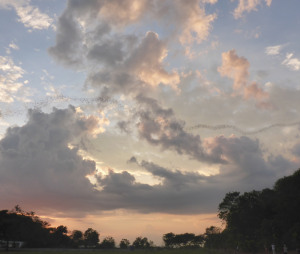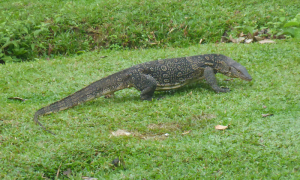 Since we didn't get to see any wild elephants, when we got to Chiang Mai we decided to visit the Elephant Retirement Park, which houses 3 adult and 3 baby elephants that have been retired from logging camps and elephant shows. There are many such parks in northern Thailand — we picked one that appeared to be doing its best to treat the animals well (including not allowing rides and using food rather than sharp hooks as incentives in training), so we got to feed the elephants, walk with them, and feel their bristles and skin. Wow! This was definitely one of the highlights of the trip.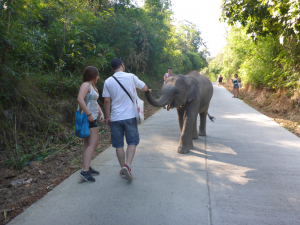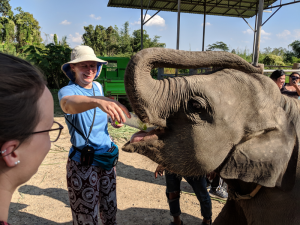 And of course, in our travels around Thailand we saw a lot of farms, growing tea, coffee, pineapples, rice, cabbages and other vegetables, rubber trees (we think?), pigs, cows, and chickens. And especially in the rice paddies, there were a lot of egrets and storks, plus numerous small birds.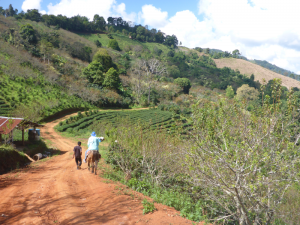 Temples, Shrines, and Buddhas
Thailand is largely a Buddhist country, although there is religious freedom (one of the constitutional duties of the King of Thailand is to safeguard people of other faiths, although he himself is required to be a Buddhist). Many Thai people mix their Buddhism with some belief in spirits (of nature and of ancestors), and many also worship or give offerings to Hindu and other gods. As a result, just about everywhere in Thailand where people live, there are shrines, Buddhist temples, small- to giant-sized statues of Buddha and other religious figures, Hindu temples, and ruins of ancient temples. We visited many of these religious sites. Aside from the ruined ones, they tended to be quite colorful and ornate (the ruins were not so colorful, the colors having worn off) — much more so than you would see in the average European Christian cathedral. Here are a few examples.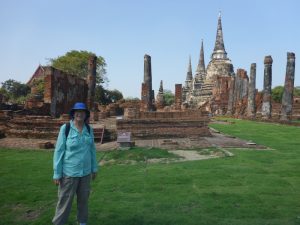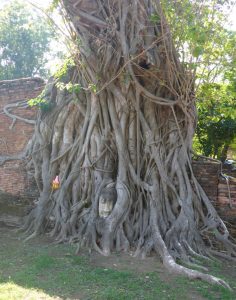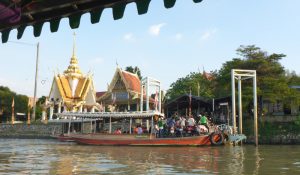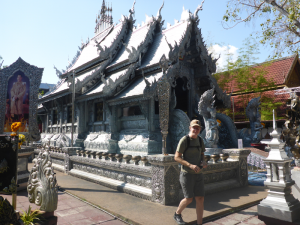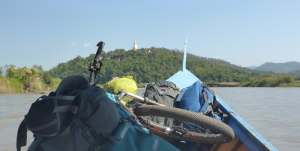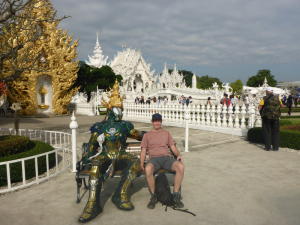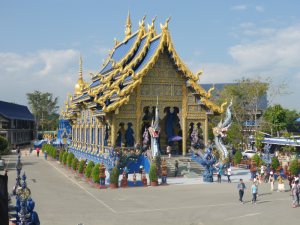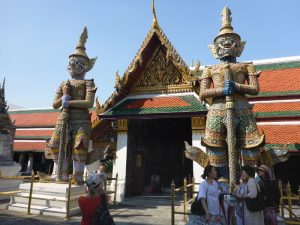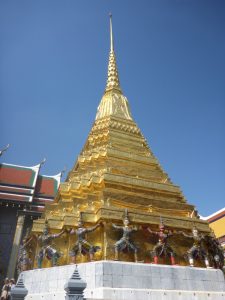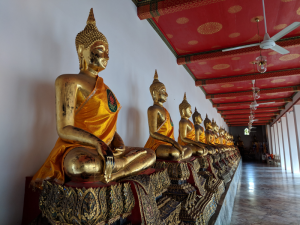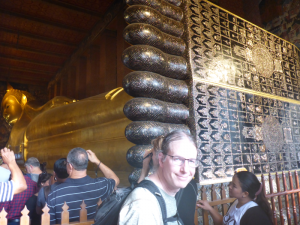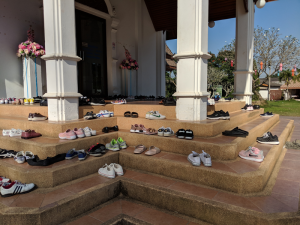 Food, Culture, and Communication
One of the few things we had decided for sure to do before we left on the trip was to attend the Loi Kratong lantern festival in Chiang Mai (and we booked a hotel ahead of time, which turned out to be a good idea — should also have booked the overnight train to get there, which sold out, but we found a bus so that worked out OK). This festival consisted of several nights of street fair, including a parade, Mr. and Mrs. Festival pageants, and two nights of releasing hot-air powered lanterns into the sky and floating offerings into the river. It was crowded but really neat to see!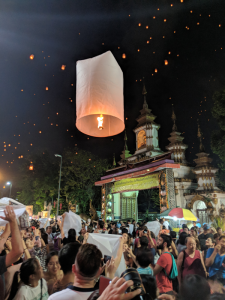 Another interesting cultural experience was in the village of Mae Salong, which was settled by Yunnan Chinese people who were escaping and fighting against the Communist revolution in China. There happened to be a wedding going on there, and the night before, the whole community gathered just down the street from the guest house we were staying in, for a feast and some folk dancing in traditional costumes. We were watching the dancing, and got invited to participate, which Jennifer did for several dances (without the costume). They also did a lot of Chinese karaoke singing, which was not nearly as enjoyable to see/hear! Here's a video of the folk dancing that Zach recorded (use the link if the embedded video doesn't work):
When we arrived in Bangkok at the end of our trip, a lot of streets were closed, which we discovered was in preparation for an event that happened just after we flew out: "Bike for Dad", where the King of Thailand and thousands of other cyclists would be doing a 30km course. On our first day in Thailand, they were having kind of a dress rehearsal (minus the king).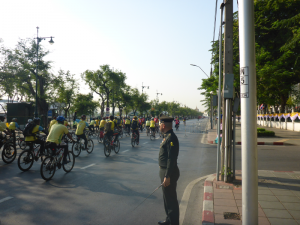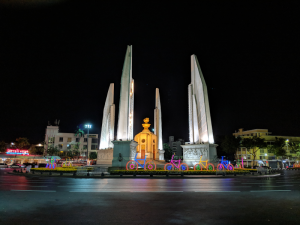 We all had fun trying new foods, as well as getting addicted to smoothies made with fresh fruits — our favorite flavors were mango (Jennifer and Virginia), pineapple (Jennifer), watermelon (Zach), and berry (Jennifer and Virginia), and we had either smoothies or cut-up fruits (or both, why not?) nearly every day. We also tried lots of grilled skewers of meat and/or vegetables, fish ball soup, and various stir-fried dishes with noodles or rice. Mmm!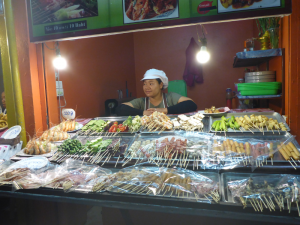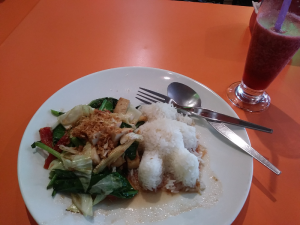 Communication in Thailand wasn't really a problem — people working in hotels, tourist sites, and train ticket offices mostly spoke English, and we booked hotels online. We ran into a few bus ticket offices where no one spoke English, but we could just say the name of the place we were going and Jennifer had learned the Thai numbers and "thank you", so that worked out OK. Taxi drivers usually didn't speak English, but we were usually able to show them a photo of where we wanted to go and negotiate a price (numbers again being helpful!). The day we hired the pony in Mae Salong, the owner/guide didn't speak any English, but Jennifer knew how to ask him his name and the pony's name, and we made do mostly with sign language for the rest. It all worked out fine!
Transportation
Nearly everyone in Thailand rides a small motorcycle to get around, plus or minus baggage (which could be their shopping bags from the market, or family members — the most we saw on one motorcycle was 5 people). We could have rented motorcycles in nearly every town we visited, but instead chose to get around by bicycle, bus, tuk-tuk (motorized rickshaw, basically a modified motorcycle), songthaew (small pickup truck modified with a home-made cap and seats along the sides), train, a pony one day (Virginia), and several different types of boats. I found out that it's kind of hard to take good pictures of transportation, but here are a few.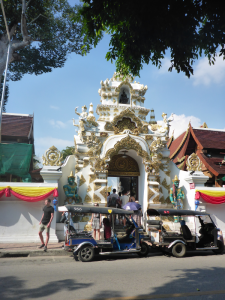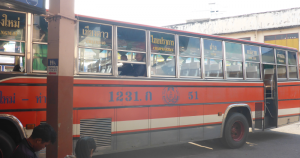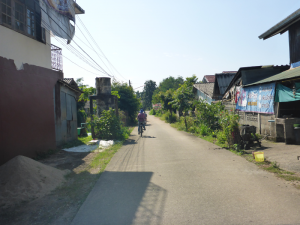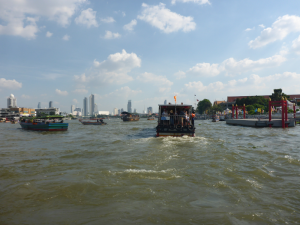 Scenery
Finally… What does Thailand look like? You've probably gotten some idea from the other photos in this post, but here are a few more photos of the rural and urban scenery we saw.