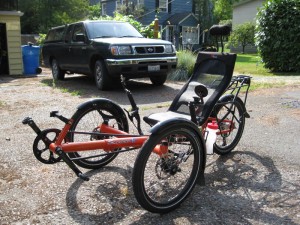 Even though the HP Velotechnik Scorpion Fx is a folding trike, its still a bit large and unwieldy, so some additional dissassembly is required in order to make a small enough package for airline travel. I was able to purchase a large double-walled box from the UPS Store (30″ x 30″ x 30″), which I cut down to a smaller size of around 30″x30″x23″.  This should be well within the airline maximum dimensions. I helped myself to a nice variety of discarded foam scraps from my work, where there is often a lot of packing foam available when large computing equipment is unboxed.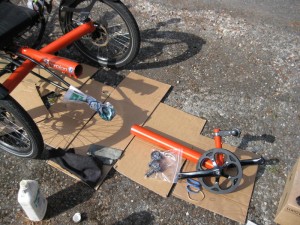 I also took off the pedals, which is really not necessary in this case, but it is required by the airline and I didn't want any extra hassles when checking in. After removing the front boom, I should have immediately removed the two front fenders.  I actually did this much later in the process and regretted it when I almost damaged them.
After that, I detached the headrest and took off the seat.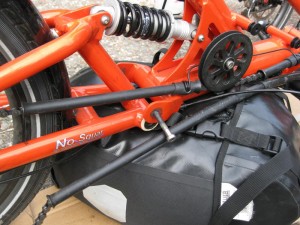 The racks are attached using the same large bolts that hold the main hinge for the rear suspension together.  Removing these two bolts is quite awkward since the whole bike seems to fall apart, and the washers inside the hinge are a bit difficult to manage.   I used my loaded pannier to help prop the trike up during this operation. Once the rack was off, I put the hinge back together, without tightening the bolts too far.
With the racks off, the next step is to fold the trike in the normal way, so that the rear wheel is conveniently up off the ground.  At this point, removing the rear wheel is easy, after detaching the SRAM DualDrive Clickbox.  Next, I detached the rear derailleur, and wrapped it in newspaper.  I also wrapped the chain, to avoid things getting too messy.  Next, I removed the rear fender.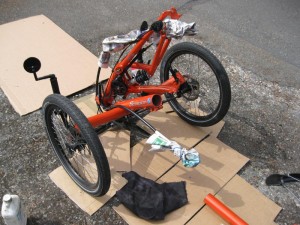 At this point, I removed the two front wheels, rotated the mirrors inward, and I was ready to put it in the box.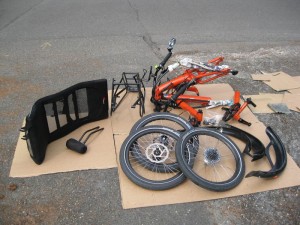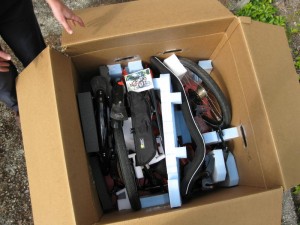 In order to encourage careful handling, I cut some convenient handles into the side of the box, reinforced with packing tape. I marked the box with Fragile!, Bicycle, Fahrrad (German for bicycle), my contact information, a lot of "up" arrows, and a picture of the trike.